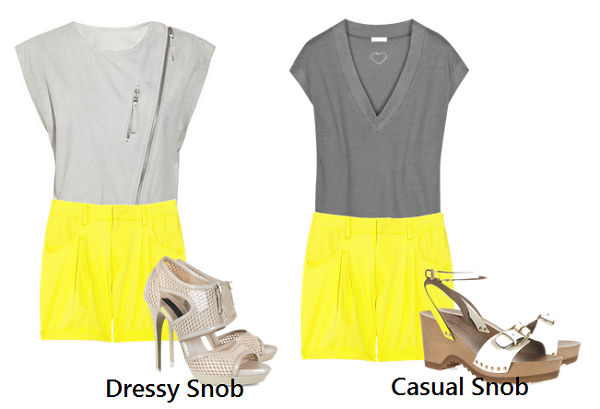 Neon seems to be everywhere this spring, even more ubiquitous now than its less attractive sister Day-Glo was in the late-eighties. So how to look on-trend without being the neighborhood's trendy fashion victim? Don't wear more than one trend at a time. Okay, two if you're very bold, but that's it!
When embracing the neon-bright trend, keep everything else simple and timeless. Muted grays are the perfect compliment to neon yellow and will leave room for you to have fun with accessories. I like large bangles when wearing shorts. Unfussy and casual, they keep the neckline clean and draw attention down to your toned legs.
Christopher Kane, a longtime neon enthusiast, gave us head-to-toe hot yellow on his spring runway. His "Keke" pleated lace skirt is ideal for experimenting with the trend, as the conservative length and classic shape are antidotes to its loud color.
Equally perfect, and far less of a fiscal commitment, are Adam's cuffed shorts – formal tailoring and ray-of-sunshine-bright yellow. Dress these shorts up or down, but play with the combination of gray and yellow.
Iro's moto-esque suede top in light gray doesn't take Adam's trouser influence too seriously, and paired with mesh stilettos by Burberry Prorsum, it all translates to hot spot-worthy edge. For daytime, go for the classic V-neck tee, like the Lounge Lover linen-blend, deep enough to show your attributes, in a material that shows you're not trying too hard. Add Stella McCartney's off-white wooden wedge sandals to exude afternoon ease.
Christopher Kane "Keke" Lace Pleated Skirt
On Net-a-Porter
for $1,385
Adam Turn-Up Cotton-Blend Shorts
On The Outnet
for $120.
Iro "Ron' Zipped Suede Top
On The Outnet
for $140.
Lounge Lover "Lazy" Linen-Blend Top
On The Outnet
for $42.
Burberry Prorsum Leather and Mesh Sandals
On Net-a-Porter
for $650.
Stella McCartney Faux Patent-Leather Wooden Wedge Sandals
On Net-a-Porter
for $725.