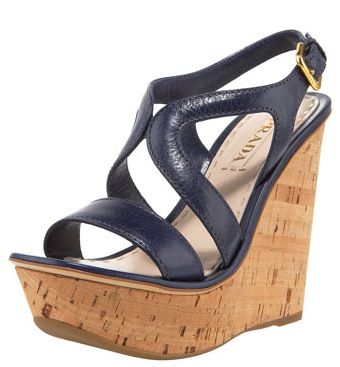 This wedge of Prada perfection at Shoe Snob is the ultimate wear-with-everything shoe.
Stiletto Jungle found French Vogue editor Emmanuelle Alt's chic black jeans, as worn to a recent Vogue/ Gucci party.
Kristen Stewart is confirmed for Snow White & The Huntsman. Allie is Wired has the details.
Bag Bliss debuts the latest of Horse + Nail Handbags
Coquette loved the catwalk return of Kate Moss and Naomi Campbell at the Louis Vuitton Fall 2011 show in Paris.
Fashion Pulse Daily is falling fast and hard for the Charles Philip Shanghai Slipper
The Jet Set Girls take a peek at the super sexy Rafael Nadal for Emporio Armani commercial.
KRISTOPHER DUKES is hating Microfiber Dust mop slippers, in pink.
Second City Style walks (and talks) a moment in Tamara Mellon's fabulous Jimmy Choo shoes!
Shopping and Info loves the Alberta Ferretti lilac dress on sale for Spring 2011.
From bright color to '70s style, StyleBakery hunts down the top spring fashion trends for every budget.
StyleHive can't get enough of the tassel earring trend! Make your own or win this statement pair!
The Beauty Stop reveals three tips for flawless mascara application.
Get ready for March Madness with these cool vintage collegiate tees at Tot Snob.
Black lips? It just darkens the natural tone of your lips or whatever lipstick you're wearing underneath at Beauty Snob.
FabSugar is Feeling Inspired by Prada's Spring '11 Stripes . . .
There is no in-between when it comes this Alexis Bittar chainmail necklace at Jewel Snob – it's all or nothing!
Maxi skirts are on trend, but this Helmut Lang at Couture Snob has unique details, putting you ahead of the curve.