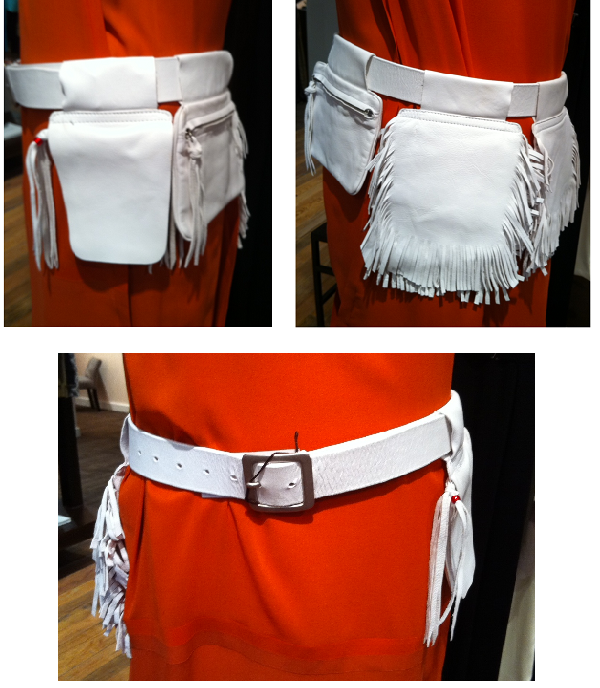 Calling all attention-seekers, or space-age cowgirls, for that matter. Unless that's how you describe yourself, this fanny pack is what we call an "editorial piece," intended for display and photo shoots, not real life. This is no ordinary fanny pack– why settle for just one pouch when you can have four on your belt?
At first glance, the concept seems logical – isolated compartments for your phone, credit cards, cash, and lip gloss, so you lose nothing and find everything fast. That is, until you start moving around, the pouches shift, and then you SIT on your phone or lip gloss. And in that case, this thing makes no sense at all.
A fringed, white leather style also seems summer-sensible, on first take. From the front, it reads like a basic white belt with a glam-rock edge. But from the back you look like a glorified handyman when all the pouches are full, and there's nothing glamorous about that, unless you're name is Tool Time girl.
I expect to see this wild thing during clearance time, when I might consider it if I have a photo shoot planned (and when it's 90% off) – no packing or walking necessary! At Forty Five Ten for $1,600.
Pair with: No kooky editorial would be complete without a pair of preposterously priced denim shorts, and we can always count on Balmain to serve them up. Tattered, die-dyed hot pants are not exactly for the wallflowers in the room. At Luisa Via Roma
for $1,760.50.