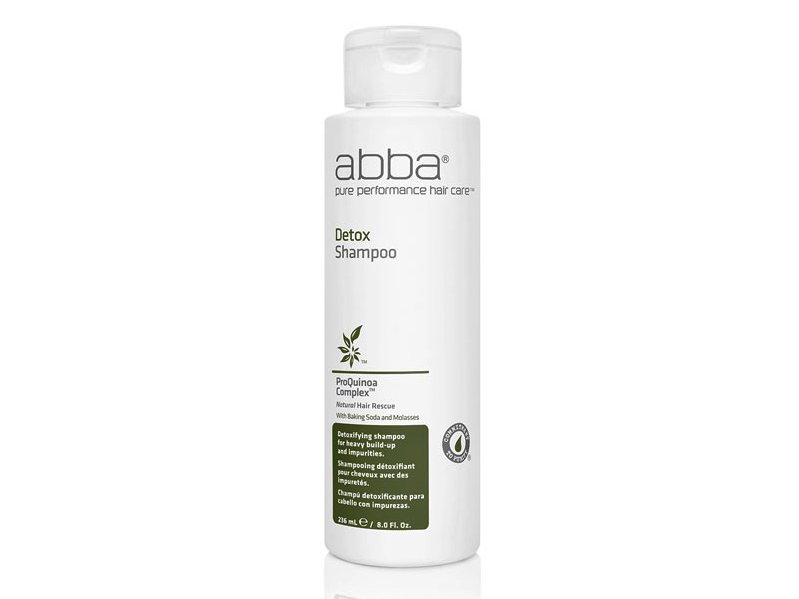 Be prepared: I'm pretty excited about this! I experienced crazy amazing, plentiful results from ABBA's Pure Detox Shampoo. You know how your body needs a good detoxing sometimes? Well, your hair is the same. The build-up from products, chlorine, pollution, and simple hair grease takes its toll – and every so often our hair needs a chance to get back to its natural state. Well, only a good total cleansing can achieve that. Sure, the delicate shampoos are great at preventing stripping and drying, but once in a while you need more.
So how about a shampoo that is gentle, but cleans your hair so thoroughly that it is actually softer, more manageable, and more voluminous? So much so that you don't even recognize it as your own hair?! I bought this shampoo in preparation for the impending summer of swimming in pools, thinking it would be the perfect product to purify my hair of chlorine.
I decided to test it out ahead of time and was blown away. My hair took on a whole new characteristic. I had thought my hair felt heavy because of its thickness – and that was why it seemed so "unstylable." But I was wrong; it was all because of toxic build-up. After one shampooing, my hair was as smooth and shiny as if I'd just gotten a blow-out. It felt completely different – soft and feathery – something I never thought my hair could ever be. Made with molasses and baking soda, the consistency and color is just like molasses. It wafts a hint of a Chinese herbal scent, which I personally love, but it might take others some getting used to. I followed up with Pure Basic Trumint Conditioner
, which hydrated my hair and scalp. Its scent of rosemary and mint is really nice. I recommend using both; but if anything, the shampoo is a must-try! ABBA Pure Detox Shampoo on Amazon for $16.23.