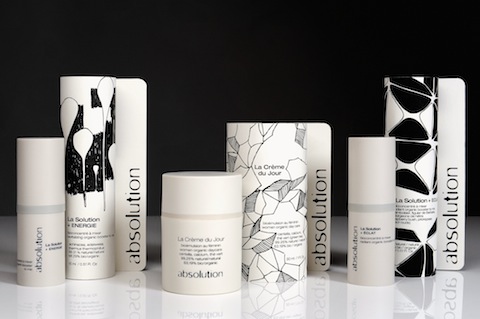 Absolution
is a Parisian brand that launched back in 2009, but is just now making its US debut thanks to Space NK (which just opened a new store a few minutes from my apartment!). The brand's founders have worked with biggie brands like Dr. Hauschka and were inspired to create a unisex, bespoke line using natural ingredients. The result is a nine product, certified organic line that's 99% natural and includes base creams (L'eau Soir et Matin, a cleansing water for eyes and face; La Creme Du Jour, a day cream; La Creme de L'Homme, a men's moisturizer and La Creme du Soir, a night cream). The idea is that you take one of the base creams and add a drop of one or two of the line's four solutions (basically serums), each of which address a different skincare need: anti-aging, brightening, clarifying, and revitalizing.
The ninth product is an eye contouring fluid that addresses puffiness, dark circles, dryness, and anti-aging.
The packaging is pretty awesome, but what drew me most to the line is that it allows you to customize your creams so that they not only tackle two-three issues at once, but exactly when you want/need those issues to be treated (ie you can combine the brightening serum with the day cream and the anti-aging serum with the night cream or the other way around depending on your preference). Check-out the line here!