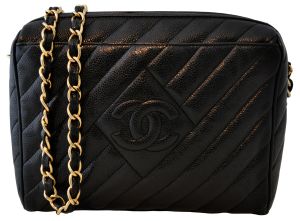 Congratulations to Kristen H., Milltown, NJ! Enjoy!!!
We are sharing our love of the ultimate lux brand with yet another Chanel giveaway. That's right, this month's giveaway is an impeccable, vintage quilted chain-strap number, with estimated retail value of $1850, courtesy of Designer Social. Be a Designer Social Facebook fan by liking their page, as well as Bag Snob's page (but you already are, I'm sure!!) and make your April the month of the interlocked-Cs. Did you ever think scoring a classic Chanel bag would be this easy? If we didn't snag this bag as this month's giveaway, I would have jumped on it faster than you can say, "Timeless beauty". Leave a comment and let us know you've liked both pages. That's it! Sooo easy. One entry per person and US residents only.
Thank you, Designer Social for sponsoring!!