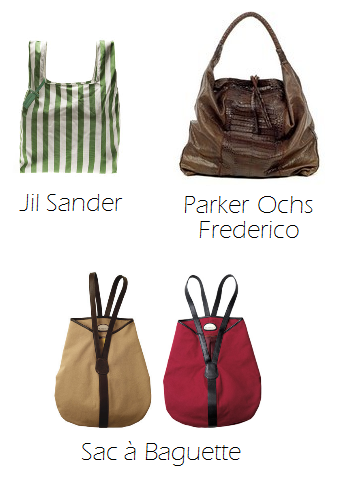 That's why I'm here to help you convert, just in time for Earth Day! Sustainable, environment-friendly bags aren't just for the granola-munching, Birkenstock-wearing set anymore (isn't that such a nineties image?!). These days, everyone, including the most style-conscious snobs, is considering how to embrace their inner eco-warrior because well, how can we live with ourselves otherwise? But that doesn't mean we don't still want to make others green with bag envy.
While some are more wildly innovational than others (billboard vinyl, anyone?) and some more high-fashion (I'll take hand-woven crocodile, please!), finding the right Mother Earth-approved tote is harder than it seems. Don't be fooled – just because a bag is not leather doesn't mean it's necessarily environmentally friendly. Nor is it necessarily wallet-friendly! But hey, the planet's worth it.
GOOD FOR EARTH, NOT WALLET:
Parker Ochs Frederico Travel Bag At Lux Couture $2,095.
My kind of Earth Day bag! A slouchy lightweight hobo comprised of recycled vintage skins – supple leather and woven crocodile hand-stitched together for an eco-chic hybrid. Decidedly luxe with an innovative take on "recycling."
Sac à Baguette Fresh Market Tote At Sac à Baguette for $299.
Watch out Whole Foods, Sac à Baguette is taking the reusable grocery bag to a new level. This tote, for market or everyday, holds a mind-boggling six gallons of loot and comes with a special tube for baguettes (or long-stem flowers or a newspaper). This is ideal for a farmers' market run, picnic, road trip snack bag; there's even a removable lining for easy cleaning. But it's $299, about $199 more than I'd like to spend on something like this.
Jil Sander "Market" Striped Silk Shopper Bag At Brownsfor $490.
Be green by shouting out "green!" This is the bag equivalent of the Prius – you get the props for going green, but you're paying for that honor, loud and proud. All or nothing, right?
SAVING WORLD AND MONEY: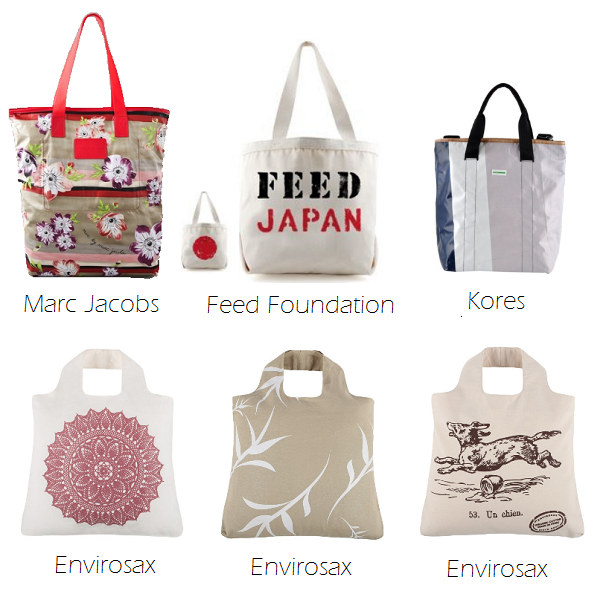 Marc by Marc Jacobs "Packables" Shopper
On ShopBop for $58.
What says "environment enthusiast" like fully bloomed flowers? And what says "inexpensive" like nylon and faux leather? Double the petal effect with a matching floral lining. In a durable fabric with candy-red trim, this tote has "beach picnic" written all over it.
FEED Japan Bag At FEED Projects for $35.
The benefits of this bag are two-fold. Not only show your support for Planet Earth but for a country what really needs our help right now. Ten dollars from each purchase of this simple cotton tote – with a lovely painterly rendition of the Japanese flag on one side – will aid disaster relief efforts in Japan.
Envirosax Organic Series At Envirosaxfor $19.95-$24.95.
When Envirosax says "all natural," they mean it. Seriously, try and find something artificial. A selection of cotton, bamboo, linen, and even fine-grade hemp bags are decorated using vegetable-based inks and packaged in recycled cardboard boxes. Choose between green pride motifs like "Sowing Seeds of Change" and "Organic," and more discreet prints, like the Bamboo and Linen series.
Kores Shoulder Bag "S226" At Kores Bags for $98.
The Australian brand's unisex tote bag is made from recycled billboard vinyl – and you can almost tell. It's shiny, modern, and with oversized color-bocked stripes, super-graphic.