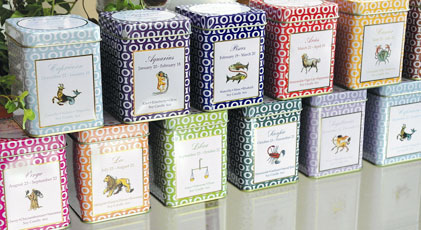 I'm not a huge follower of astrology, but without fail at the beginning of every month I check my horoscope on Astrology Zone because, why not? Nothing to lose being "prepared" and Susan Miller is eerily accurate sometimes (if her name sounds familiar it might be because she's Elle's astrology expert). With that in mind I'm thinking that Kat Burki's Cosmos Collection is pretty ingenious. Burki did a ton of research to find out what scents each astrological sign responds to the best and developed candles around them. The colors of the tins each of the candles come in also tie into astrological preferences.
I've smelled all of them and while I do like the Taurus candle (my sign), made with rose, fig, and citrus, my fave was the Gemini which is made with lavender, lily of the valley, and hazel. I'm actually on the cusp of being a Gemini since my birthday is on May 20th. Whether or not it's my birthday that makes me prefer one over the other, the idea is super cute and at $24 the candles are a great price given that they come in a gift-able tin.
If you're curious see some of the results from Burki's research after the jump!
Air signs (Gemini, Libra, and Aquarius), tend to be drawn towards scents that are light, clean, and simple (this is so me!).
Water signs (Scorpio, Cancer, and Pisces), are attracted to fresh and invigorating fragrances.
Fire signs (Leo, Sagittarius, and Aries), like bold, strong, and vibrant fragrances.
Earth signs (Capricorn, Taurus, and Virgo), usually go for fruity, floral, and herbal scents.