The founder of Moda Operandi, a Contributing Editor at Vogue, and as Town & Country recently touted when she graced its cover, the next Mrs. Astor, Lauren Santo Domingo is a fashion icon for a new – and very chic – era. Her latest venture, new e-commerce site Moda Operandi, is going to permanently change the way women shop; we will no longer be at the mercy of store buyers. The concept is simple: see something you love on the runway, buy it on the site within days of the show. It allows you direct access to the latest ready-to-wear pieces and guarantees the size you need and the styles you covet. I have been shopping on the site since it launched and ordered several things from the Fall 2011 runways without getting out of bed– 50% deposit now and the balance due upon delivery. Now what can be easier than that?! Only a true fashion insider like Lauren could co-found a site like this, as Lauren calls it, "pretail"! (Membership to Moda Operandi is by invitation only. And I'm inviting you– apply for membership here, tell them Bag Snob sent you!)
Lauren's elegant uptown-downtown style is as appealing as her quirky sense of humor, which has garnered the LSD a large
following on Twitter – myself included! Wit, class, brilliant fashion sense, a
dreamy hubby, and naturally, impeccable taste in bags. Read on for her favorite five essential bags:
Nude Nina Ricci tote bag: it's a great basic shape and the perfect color to go with any outfit, especially if I'm on the run and don't have time to change my bag from the day before, I need something that I can wear with virtually any outfit.
Custom monogrammed Louis Vuitton rolly bag: they make the best luggage; it's gorgeous of course but is also extremely well made so lasts forever.
Croc Proenza PS 1
: I'm a big Proenza Schouler fan and love all of their bags …my croc PS 1 one is my all-time favorite. It's luxurious and beautiful but in their classic shape, it's still versatile enough to be toted around all day and night!
Alexander Wang Diego bag: I love the unique pouch shape of this bag and the studs at the bottom give it just the right amount of edge.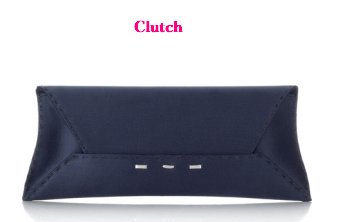 VBH Envelope clutch
: the absolute go-to for an evening clutch, of course, but they also have great pieces for day. I love that they feature so many options for colors and materials, there's a VBH clutch for every mood.