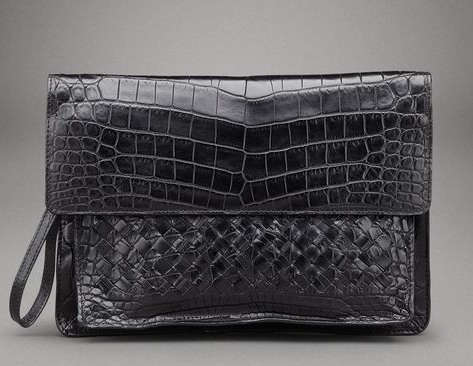 This is the clutch to retire all other clutches. Where to begin? The texture, the shape, the functionality, the versatility or the total outcome of overwhelming elegance? Clutches are usually way too dainty for me; I'm always in search of one I can wear without a ball gown (I actually don't own any clutches that could be paired with a ball gown. Or a ball gown, for that matter!) This "murse" (man purse) shape and appeal – strong lines and no fuss – is sexy and cool, but a super-flat silhouette means no old-school machismo here.
I don't need to tell you that crocodile is an exquisite skin, but the effect of woven croc makes "high-level luxe" sound like an understatement. And it's as functional as a clutch can be – that woven panel is a pocket, the ultra-long zipper pull doubles as a wristlet, and there is an additional pocket on the flap's underside.
There is actually nothing wrong with Bottega Veneta's bag. Except, perhaps, the price. Yes, it's a million dollars, but can you fathom ever falling out of love with such a treasure. At Bottega Veneta for $8,300.
Pair with: If you haven't cut up your credit cards after your well-worth-it purchase, spring for a menswear-inspired blazer. The relaxed fit and feminine sheen of Theyskens' Theory's midnight-blue satin jacket is boy-meets-girl perfection. On Net-a-Porter
for $660.