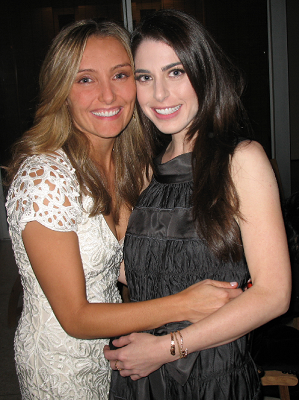 Left: Ruthanna Hopper, Right: Amanda Goldberg
The New York Times bestselling authors of Celebutantes
, Amanda Goldberg and Ruthanna Hopper, are native California girls and Hollywood insiders (both are industry daughters and worked in film production before turning their talents to the pen) with wit and style to spare. I've already downloaded their brand-new sequel, Beneath a Starlet Sky
, to my Kindle for my flight to New York City this weekend. If it's anything like their first novel – fast-paced, funny, and utterly entertaining – it's sure to fly off the shelves!
The authors currently reside in Los Angeles, where they are also known for their savvy and sleek, not showy Hollywood style. West Coast snobs, meet the duo at Saks Fifth Avenue in Beverly Hills on May 6th and see for yourselves! (Saturday, May 7th from 2-3pm at 9600 Wilshire Boulevard) You can also find them on Facebook and Twitter @AStarletSky. And for now, read on for their five bag essentials:

Amanda:
FEED Japan Bag: I'm all about Bringing My Own Bag! I keep my trunk stocked with a few FEED bags at all times so I never have to take a bag from a store. They're particularly great for the market!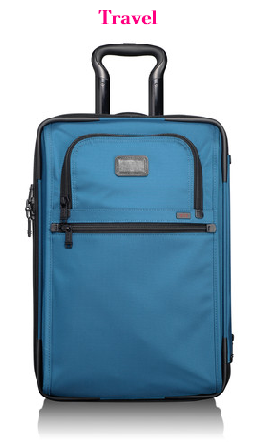 ALPHA International Zippered Expandable Carry-On: I try to pack carry-on only wherever I'm going. This bag got me through 2 weeks in Japan. The fact that it expands is the best part so you can still shop while you're away!
Balenciaga: Love any bag that I can sling across my chest — especially one in python! Love the mix of textiles & the simple shape.
Proenza Schouler Medium Leather PS1: Would love one of these bags in every color please! LOVING this green!
Bottega Veneta Anitque Sterling Silver Knot Evening Clutch Bag: Some people collect stamps, I would love to collect the Bottega knots. This sterling silver one is a treasure to behold. And it fits an iPhone!
Ruthanna:
My absolutely favorite line of bags: Hayward. It's not just that my sister, Marin Hopper, who was Fashion Director of Elle Magazine (which gives a sense of her impeccable taste), designs them. It's that they are extraordinarily beautiful; like gems, like jewel boxes. The "Hopper Blue" bag was inspired by the color of our late father's eyes.
Kit tote: This bag takes the concept of a "script bag" to a whole other level. Marin Hopper originally designed this bag for her producer friends to throw a script (or several) into. This bag definitely recalls the bygone days of Hollywood glamour. One could imagine Audrey Hepburn stepping out with this bag on her arm.
Haywire tote: Travel in style with this bag over your shoulder. Bring it on the plane with you with your makeup bag, your iphone and even get your computer in there. The leather wears beautifully.
Golden Python Plate Clutch: I love this clutch because it's like wearing a gorgeous piece of jewelry with a bonus – it fits lipstick, a phone and your credit cards!
Hopper Blue Kit Bag: This stunning "Hopper Blue" bag was inspired by the color of our late father's eyes. I love its drama and its versatility. Put it with a pair of jeans or dress it up!
Baby Clutch in Tortoiseshell Python: The Hawyard clutch is a conversation piece. It's like carrying a piece of art in your palm. And yet, it's so wearable! I'd like to sleep inside the gorgeous velvet lining.