I'm obsessed with Joseph Altuzarra (especially that insane coat from last season that folds and molds around the body like a piece of art- (jump to see photo of me in it!). The caliber of his details and workmanship is usually found only among designers with many more years on him.
I was so sad I was unable to attend Barneys' Spring Trends Breakfast, hosted by Joseph and Barneys New York's Fashion Director, Amanda Brooks, but I got the scoop from our NYC-based editor.
The only thing better than shopping at Barneys is being there early in the morning to observe an intimate conversation between a sensational new designer and the store's newly anointed fashion director. Joseph and Amanda chatted like old friends about new trends, inspiration, and what women want.
Joseph, possessing a vision far beyond his 27 years and the demeanor of a sweet, smart kid, asserted he designs for professional women. Amanda included. She wore one of his daring spring dresses, with a jagged python strip, and a stretchy white trench she described as "so comfortable she could sit in it at her desk all day."
To answer her question as to where he finds inspiration, Joseph listed films: "Twilight" flicks, Tim Burton films, and recent Diane Keaton and Meryl Streep movies (as in "Something's Gotta Give"). And most of all, busy women.
"Dressing for practicality is interesting," he said, going on to explain it's not about the whippet-thin model, but real women with full bodies and full-time jobs. Which is why to be "commercial" is actually a good thing. What's the point if women don't want to wear it?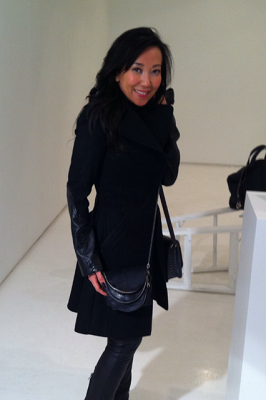 Me in Altuzarra coat from Fall… yes Joseph, I have a full body and three full time jobs (Mom, Wife & Fashion Blogger) and your clothes just do it for me!
"Women today want different things from the same designer." Wary to embrace the concept of the signature look, there's an intriguing disparity from one collection to the next and even within his spring line – a functioning dichotomy between the slightly (emphasis on slightly) conservative and rebellious attention-seekers. Maybe knowing what women want is recognizing they desire both.
And what do they most desire? "Clothes are all about making a woman feel sexy and seductive." Joseph acknowledged that as a man sometimes his concept might not appeal to a woman, so he checks in with the women in his life for approval, mom included. So far, he's right on target – we want to feel sexy and we want it all.