Snobs, we're not in Kansas anymore. Handbag wizard and Valentino veteran Vernon Bruce Hoeksema has presented us with yet another collection of lavish and quietly sophisticated bags, for the true discerning bag snob. Perusing VBH's flagship store in NYC is quite the experience in itself; located in a former landmark bank, the cathedral-high ceilings and lush yet homey atmosphere just emphasizes how regal these bags are.
Bruce is meticulous when it comes to selecting skins and executing styles, and his attention to detail is felt in each and every one of his functional works of art. The "Brera" is a must-have for Fall, an iconic tote that – dare I say it? – rivals the Birkin. Multiple colors and skins (tomato red, royal blue or leopard sueded python, anyone?) are juxtaposed against shiny platinum hardware. As satisfying to eye as it is to the touch, this could be the one bag to take you through the season with panache. On days you crave something daintier, the "Prive Due G" purse is a light yet buttery marriage of nude crocodile and suede. With this on your arm, you could wear jeans and a T-shirt and still be the most elegant woman in any room. But the one that really calls my name? The sleek and chic "Manila" stretch clutch in blue slate crocodile. VBH is most known for their envelope clutches, and with architectural lines and elegant personality to spare, this bag makes me crazy.
Moda Operandi is offering a VBH Fall 2011 trunk show, so you can get the insider jump on the fall collection. Online for three days only (ending April 13th)! Make a 50% deposit now, and the balance is due upon the delivery of goods (Don't ya just love the layaway plan?!). Membership is by invite only– apply for a membership here.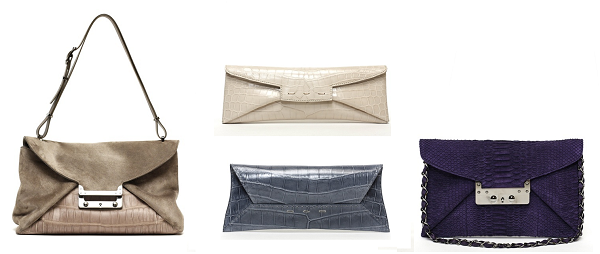 "Brera" Tote in blue python $4,800.
"Brera" Tote in red python, $4,800.
"Brera" Tote in pink python, $14,950.
"Brera" Tote in green python, $4,800.
"Brera" Tote in leopard python, $14,950.
"Prive" Tote in nude suede and crocodile, $3,550.
"Prive" Clutch is purple suede python, $1,950.
"Manila" Stretch Clutch in blue slate crocodile, $5,750.
"Ascot" Clutch in nude crocodile, $6,150.