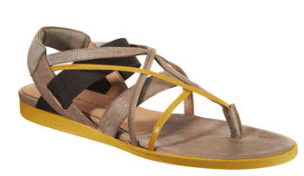 Visible panty lines. Victoria Bartlett has given new meaning to the cringe-worthy faux pas. Yep, that's what VPL stands for and since Bartlett stands for intelligent body-consciousness, flexibility, and form, it totally works. Case in point, this sandal. The cute, unique flat is an elusive character in the shoe salon, so I'm always on the hunt. These are by far the best I've found this season – I was signing the receipt before the second one was even strapped on.
VPL is all about making the functional look fierce. Since when did a black elastic strap actually make a shoe more attractive? This one brings it all together, literally and figuratively. It permits legit walking, keeping your foot secure and comfortable in each stride, but it also finishes it off, for solid polish. Earth tones with a splash of yellow make the message that it's summertime, loud and clear. The multiple straps make these so much more than flat thongs. They can be dolled up for night with the right dress and accessories, and a cushy slingback means real comfort. Being low to the ground never looked this good. At Barneys New York for $460.
Pair with: A big day bag that's idiosyncratic and au courant – Alexander Wang's burlap version has funky finishing touches, like leather darts and a modestly studded flat bottom. Alexander Wang Small "Emile" Tote, $650.