It's always such a delight discovering exciting, new jewelry designers. Summer seems to call for more delicate pieces that beg to be layered, and Elle + Cie is satisfying my yen for understated chic. Delicate diamond pendants float on barely-there chains, blowing just a kiss of glimmer to your collarbones. I especially love the gold teardrop earrings and stacked rings for casual summer evenings. Take a cue from Jennifer Aniston and her easy, downplayed style – with lightly bronzed skin and a gauzy neutral dress, the emphasis will be on your nuanced jewels. Elle + Cie prove that elegant jewelry doesn't have to be big to make a shining statement and that objects of desire don't need to be in-your-face to make an impact.
Send all inquiries to elleandcie@gmail.com
14-Karat Single Sparkle Necklace, $215.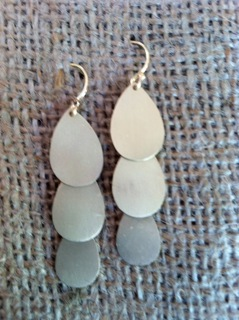 14-Karat Gold Triple Teardrop Earrings, $965.
14-Karat Gold Teardrop Earrings, $325.
5-Cognac Diamond Bands, $2,675.
14-Karat Gold and Diamond Teardrop Earrings, $820.