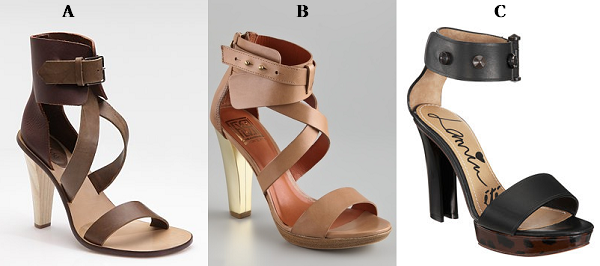 So you fancy yourself a true snob? Impeccable knockoffs, quality discrepancies, and old-fashioned issues of taste can throw off even the haughtiest of shoppers. Let's see if you're really up to snob snuff and can tell your haute couture from your prêt-a-porter and your high end from your high street.
The Look of the Week is a Memorial Day classic the earthy and neutral spring sandal with the fresh white frock for instant airy grace: undone yet finished weekend dressing. Choose between Marc by Marc Jacob's sashed-up and femmed-out dress
($398), with picnicking charm to spare for a frugal snob price or Jil Sander's architectural silk dress
($1,975): a light and airy choice for the high-rolling minimalist.
Three cuffed leather sandals with bold straps and lean (but not anorexic) heels. All will take you from day to night, but can you tell the difference between the steal, mid-range, and bank-breaker?

If you chose C, you are a snob worthy of her shiny red soles! Lanvin's studded and spotty-print platform ($1,095) will have you strutting in high-priced style.
If you chose A, nicely done. Chloé shoes
($645) are no small potatoes! Perhaps you can sneak into a few shows next Fashion Week before you work the front rows in February. And so they don't serve you Champagne the instant you walk into Hermès – they just might next time!
If you chose B, you have snob potential. Real fashion insiders know that the steals and deals can be just as inspiring (and sometimes more envy-inducing!) than their expensive sisters. Pour La Victoire's lightly distressed sandals
($272) are a solid riff on the style – and a smart and savvy choice for no-fuss summer dressing.