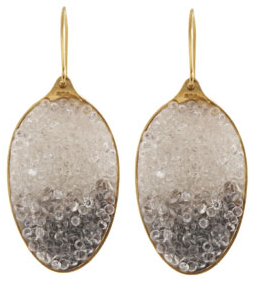 Remember spoon rings? The ends of antique sterling silver flatware wrapped around to fit your fingers – very hippie-dippy, very obvious cutlery. These earrings are the opposite side of the same spoon. It takes ingenious design to use an everyday object and make it unrecognizable. You can look closely at Husam El Odeh's gold-plated spoon earrings and still not see what they truly are until it's spelled out. The disguise is in the ombré gemstones – cubic zirconia has never looked so glamorous, shimmering softly like flecks of glittering sand. Who knew the soft, curvy shape of a spoon is perfect for earrings? Instead of a simple oval, which we would typical see on a jewel, with a spoon, you get a divot for added depth, making the stones sparkle brightly. Give these earrings a test: I bet you could walk about all day without a single person pointing out that you have spoons hanging from your earlobes. At Browns for $502.88.
Pair with: For every oval we need a square, and what better way to balance out your shapes than through a sharp little clutch? Take your pick between Dsquared2's snappy brown envelope, Yves Saint Laurent's metallic bronze clutch, and Alexander Wang's stingray wristlet, sharpened with rose-gold hardware.
Dsquared2 "Portland" Envelope Clutch, $715.
Yves Saint Laurent "Y" Clutch, $695.
Alexander Wang "Jade" Trunk Wristlet, $795.