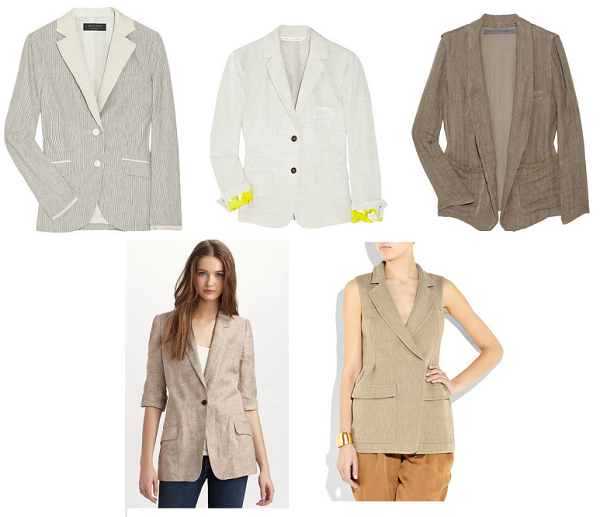 The linen blazer is a summertime wardrobe savior. Want to look professional and feel cool, literally and figuratively? Want to dress up a white T-shirt and cut-offs? Dress down a cocktail dress? The possibilities of the linen jacket are endless; the season's new styles are even kind of exciting. The key to looking several steps ahead is to choose a jacket with a twist of interest.
Rag & Bone's pinstripe blazer
($395) has seersucker prep with a linen touch via the lapels, while Diane von Furstenberg's easy style
($385) brings a surprise burst of printed color when you turn up the cuffs. Linen for the younger set? Go for open-weave with edgy back paneling
($945) by Raquel Allegra. Since linen is the ultimate summer fabric, it's only logical that your jacket has short sleeves – or no sleeves at all. Elizabeth and James
($395) is mannish and oversized with the feminine touch of barely three-quarter sleeves, and Gucci's vest version
($1,520) can go from board room to safari, depending on how you accessorize. A linen jacket for every day of the workweek, in styles that blend right into playtime.