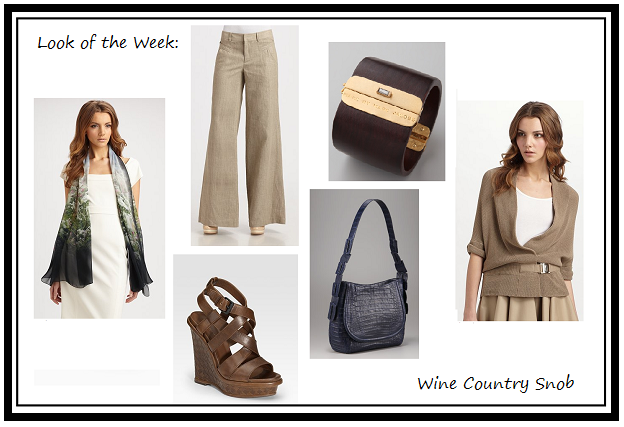 From the modestly humble to the over-the-top luxurious, vineyards in Napa Valley wine country are an enchanting way to spend the day for one reason. Do I even need to say it? An excuse to drink wine when the sun is up! Whether you're a "Sideways"-esque connoisseur, a casual observer, or your attitude is "I don't care as long as it gets me tipsy!" you'll want to look the part of the mellow sophisticate. Relaxed and chic, like you know how to work it in the city but are comfortable around grapes, grass, and with your hair blowing in the convertible's breeze on winding California roads. So go easy on the lipstick (nothing refined about leaving scarlet lip prints all over Pinot glasses) and get dressed to sip – not swig! – in style.
A wedge is in order for stability as you traipse through soil and pebbled roads. Bottega Veneta's sandal
($1,050) is perfect: brown so it doesn't show dirt and super-strappy cuz you'll be drunk so you'll need the safety of strong straps. Plus, the intrecciato is reminiscent of lattice fences – very apropos.
You'll want a good cover-up to swaddle you if get chilly. Or after indulging in too much cheese and baguette. BOSS' belted chunky knit
($350) has the formality of a jacket, with the easy grace – and forgiving nature – of a sweater.
Be sure to opt for a bag in a dark color in case of spillage! Nancy Gonzalez's deep blueberry crocodile ($3,350) is divine, even when you're stone-cold sober. A shoulder bag is the only way to go, keeping hands free for wine and snacks.
The pairing of navy and light linen is polished but laid-back for the romantic countryside. Watch out for Cabernet-stained lips – and sloshing it on your fine linen pants! Knowing you might ruin Nanette Lepore's pair
($298) might slow you down just enough.
Valentino's meadow-print scarf
has outdoorsy appeal, on a gauzy fabric worthy of the most cosmopolitan of snobs. It's the best of both worlds.
You don't want to be bogged down or look too formal with too much jewelry. Something organic and easy, like a thick wooden cuff makes a bold statement all on its own. Marc by Marc Jacobs "High-Tide Charley" Wood Cuff
($198).