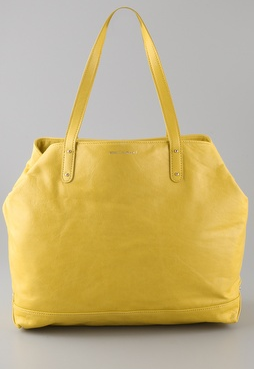 I must have come down with yellow fever (does turning your half Colombian husband into an honorary Chinese count?) because I can't get enough of yellow bags. Maybe it's all the cheery, clear weather we're been getting inLA this weekend – everything's coming up sunny. Whatever it is, a big yellow tote is made to be enjoyed in a carefree way.
If you just want a spring fling with a bright bag, at under $300, Rebecca Minkoff's "Cherish" tote is perfectly priced for such an affair. Unlike Dsquared2's smooth"Quebec" bag that has the shade right-on but a distracting logo, this frugal variation has depth and texture for needed richness. Warm brights this bright are bit tricky and can look cheap without purposeful dimension.
An easy, functional tote for all your vacation or work needs: think laptop during the week and beach towel on weekends. And a soft floral print any day, a great pairing with bright yellow, for an unexpected burst of happiness sure to perk people up all day long. On ShopBop for $295.
Pair with: Bright yellow and warm gray is always a winning combination, especially when you throw in the high interest of Camilla Skovgaard's patent-leather sandals. Camilla Skovgaard Patent Leather Sandal, $470.