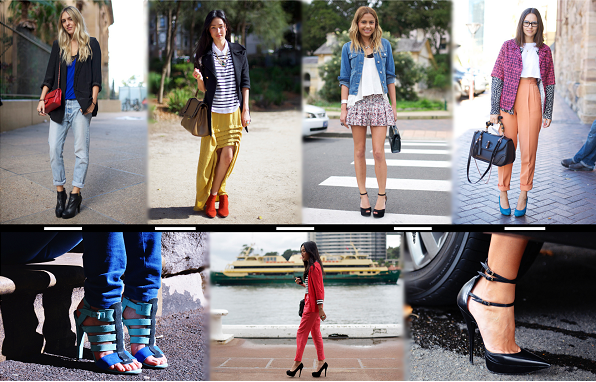 The ladies Down Under proved they roll in high style – and often enviably high heels – when they came out for Fashion Week in Sydney the first week of May. Of course, Tommy Ton and Phil Oh were there capturing some of the best looks on the street. Here's our new weekly roundup of the best shoe street style, proving that footwear is a great ensemble's punctuation and foundation.
Which Balenciaga look strikes your fancy: wickedly sharp buckled stilettos, taking the pointy toe to a new level of masochism, fit for a dominatrix (or more likely an editrix)? Or mellow shades of pool and royal blue suede gladiator sandals, paired wittily with blue jeans and nude toenails?
Anna Harrison of Australian label My Pet Square looks like a pretty girl who can hang with the boys in 3.1 Phillip Lim booties. It's all in the masculine/feminine styling: primary color-blocking via a blue tank and classic red Chanel shoulder bag, cuffed boyfriend jeans, and an oversized blazer, courtesy of her line.
No current street style roundup would be complete without a little Isabel Marant. Her brand of laid-back French cool is reach across continents, like on stylist Natalie Mark. Vintage peep-toe sandals dress up a girlie skirt and casual jean jacket, which would look too babyish without them.
In case you hadn't heard, it's the summer of color (even though it's winter in Australia!). Not only is this chick unafraid of serious color-blocking, she's boldly mashing up prints. The cropped white tee pulls her royal blue suede pumps, coral trousers, and plaid-over-cheetah layers together. It's so wrong, it's right. A snob-worthy bag, cool-nerd glasses, and the confidence to pull it all off doesn't hurt, either.
Style-blogger Nicole Warne pulls Breton stripe double duty. Do you prefer her in black pumps and bright coral or burnt-orange booties, contrasted with a mullet-maxi goldenrod skirt and nautical jacket?