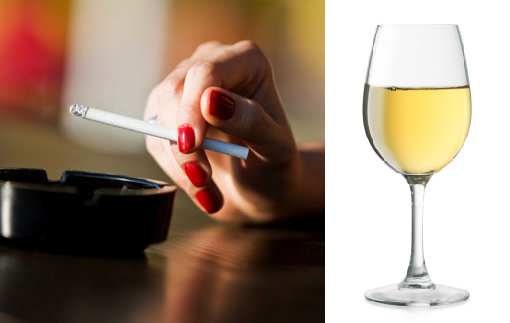 Guest Blog By Renée Rouleau
After 25 years of working hands-on with clients as an esthetician, I think I've heard a lot. For the most part, people generally practice good skin care habits, but once in a while I'll be taken aback by the things I see or hear during my facials. These are the all-time five worst skin care sins I think I've ever encountered.
1. Nail-filing your face
I kid you not, I had a client that would take a nail file to her face to "file down" problem areas, in hopes of lessening acne scars. Her effort was to exfoliate her face, but certainly this would not be a safe way to take skin smoothing into your own hands! Instead, using a good round-grain facial scrub or exfoliating acids would be effective with no risk of damaging skin.
2. Smoking–and around estheticians!
While we all know that smoking is not beneficial for the skin, I was amazed a few years back when a celebrity client actually asked me where she could buy a pack of cigarettes – directly after her facial! "Do you know where I can buy a pack of cigarettes?" is certainly not something an esthetician wants to hear! On one of my visits to France, I walked into a facial salon only to find the receptionist puffing away. Shocking, huh? Smoking and second-hand smoke can certainly ruin the effects of a good facial. Read on Beauty Snob: Who Does Skin Better–the French or Americans?
3. Drinking alcohol immediately after a facial
Drinking alcohol, like smoking, can undo the healthy benefits your skin has just received because it's very dehydrating to the skin, so imagine my surprise when a celebrity client did a shot of whiskey in her hotel room directly after I finished her facial! That was a first for sure. After a facial, you want the skin to take in all of the wonderful nourishing benefits, so refraining from alcohol and wearing makeup for at least six hours is suggested.
4. Extreme picking
As a former picker myself, I know from personal experience that picking at your skin and blemishes can be very damaging. Sometimes, people can take it to the extreme and their picking can result in scabs all over their face. It is my belief that when picking is done to this extreme, for some it can be a form of obsessive compulsive disorder and professional help can be sought. Got acne scars? See Renée Rouleau new Post-Breakout Fading Gel.
5. Post-peel sun exposure.
After a facial, and especially after getting a chemical peel, the damaged skin cells are removed, allowing fresh, new "young" cells to surface. Caring for these new cells requires wearing daily sun protection and avoiding sun exposure between the hours of 10 and 2, when the sun is at its strongest. (Did you know? Exfoliated skin can be 45% more sensitive to the sun, increasing the risk of sunburn.) I've had clients through the years that have ignored my warnings and suggestions concerning post-facial exposure and have gone into the sun or tanning booth and fried their newly revealed skin.
Read: How to Care for Your Skin After a Chemical Peel
When it comes to the health of your skin, be sure to use common sense and practice good, safe skin care habits.
Renée Rouleau is a skin care expert and celebrity esthetician. Her exclusive skin care line is based on nine skin types, rather than the standard–dry, normal and oily and has a loyal following of celebrities like Demi Lovato, Jessica Simpson and Amber Heard. Her website is www.ReneeRouleau.com