A-list stylist and soon-to-be T.V. personality – look out for her show, "The Annabel Tollman Project" on Bravo – Annabel Tollman is as gorgeous as the multitude of celebrities she dresses (Scarlett Johansson, Shakira, Jessica Simpson, Mary-Kate and Ashley Olsen, to name a few). Recently voted one of Stylecaster's 50 Most Stylish New Yorkers, the former Fashion Director of Interview magazine is a proponent of old Hollywood style with a modern edge. Annabel naturally exudes bombshell glamour, with an infectious sense of humor to match. Read on for – and take note of! – her five essentials:
Valextra – I have this in cream with my initials on it. It's been with me for 10 years and cleans up really well. I heart Valextra.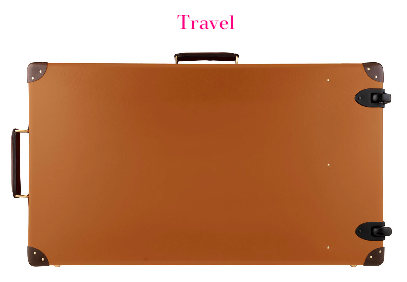 Two choices:
Glamour: The Globetrotter suitcases in cream – I've been using these since 2000. Unfortunately not very ergonomic for tall people because your heels bump against it as you walk. However, you are the admiration of every bellman you meet.
LL Bean – I have the camo canvas with the pink monogram saying TOLLMAN on the side for all our office luggage. If you ever have to change flights and get your luggage pulled off, this makes it SO quick and easy. (cant find the camo online and i know you have to CALL to get the hot pink monogram…)
Hermes Kelly. But i'll only carry them if they look like they've been run over by a truck. There's something repellent about a bag carrying you rather than you carrying it. Of course I lust after the etoupe clemence and the croc ones but frankly I'm happy with my '60s canvas-and-vache-natural hand-me-down.
I hate trendy bags. Sorry. I think it was after I had a clear-out of my archive and realized that I had bought 2 x bags per year for the past 10 years and could have bought two beautiful long-term bags. Trendy bags are like casual sex – seem like a great idea at the time and then you feel rather cheap and easy. Having said that….I do like the Valentino nude one with the gold studs…the slim shoulder one. I'm a sucker for anything nude.
I love a clutch…Lauren Hutton in American Gigolo had THE perfect beige clutch. I always aspire to that look….unfortunately I usually end up juggling iphone, coffee, keys and end up spilling. Not so chic.Hunting Season has a great nude alligator clutch that I'm desperately in love with….it's so plain and elegant and goes perfectly with Richard Gere.