Image by Thomas Iannaccone Via WWD. Hair: John Barrett NYC
We are so excited to present our very first bag collaboration with a major global brand, DKNY! The collection, Bag Snob x DKNY, is an interpretation of our "Five Essentials" (Tote, Travel, Treasure, Trendy, Clutch). We have been working on this for seven months (believe me, keeping this a secret has been very difficult for us!) and can not wait until the collection hits the stores worldwide in October.
We approached DKNY about this last year and they loved the idea– it was agreed that we would design the collection from the ground up based on our "Five Essentials". We made inspiration boards, did some rough sketches and (nervously) gave our presentation to the DKNY design team last December in NYC. The rest of the design/production process was an incredibly humbling and amazing learning experience (For about 3 weeks during this time we both had nightmares every night. There is so much pressure in designing!). We designed everything from the shapes, materials, hardware, and the interior (hot pink of course) with guidance and suggestions from the DKNY design team. DKNY allowed us complete design freedom and made the process so much fun for us! It was a dream come true to design this very tightly edited collection that consists of The Tote, The Travel, The Treasure, The Trendy and The Clutch.
The dream became very real when WWD Senior Accessories Editor, Roxanne Robinson-Escriout requested an interview and photo shoot with WWD veteran photographer Thomas Iannaccone (thank you, Tommy– for this fabulous photo!) in New York City last week (Jump to read complete article).
Sketch by Dallas Shaw
Our goal is to do a collaboration with a different designer each year (we have a long list!). Hope you like this collection! We wanted to create a collection for the modern day Amelia Earhart– a girl who knows what she wants and gets it done herself, all while looking gorgeous and feminine. We love the styles of early 70's Pierre Cardin and the wardrobe from Catch me if you can. Our tote was inspired by the most iconic bag from the era, the square Pan Am tote playing on the idea that flying was sophisticated. The DKNY girl always arrives at her destination as gorgeous as she departed. Also in the collection, a carry on travel bag with a vanity that opens up to reveal FAA approved sized toiletries, a crossbody that doubles as a belt bag, a glamorous clutch for a chic evening out and a treasured beauty that exudes feminine guile. We were able to design our dream concept. With these five bags, the DKNY girl will be prepared to go anywhere and do anything, all while looking fabulous. From now until June 3rd, you can Pre-reserve a Bag Snob x DKNY bag on its Facebook page (you must be a fan of DKNY!) here.
The Tote: We wanted a bag that fit both iPad and MacBook, two large outer pockets, interior compartments and shoulder straps long enough to fit over any heavy coats! We put the contrasting blue straps on black and graphite color blocked leather to add a pop of color. Dimensions: 12.5″L x 12″H x 4.5″W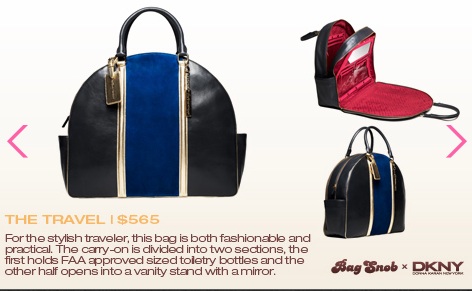 The Travel: Inspired by our jet setting friends (especially Uber blogger, BryanBoy who is always Up In The Air!), the outer compartment has a mirror so you can primp before de-boarding plane, train or automobile. Elastic straps in the interior for FAA approved beauty products! Side pockets for your boarding pass, cell, and passport/ID. Dimensions: 17.5″L x 15″H x 5″W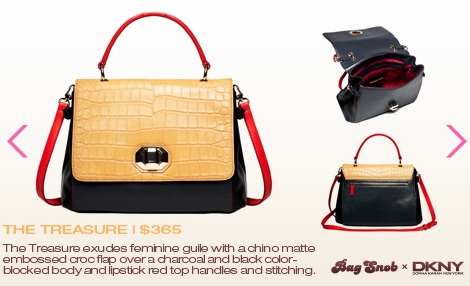 The Treasure: A ladylike bag is a treasure indeed. We gave the charcoal leather body a touch of glam with contrasting red stitching and cross body strap. Dimensions: 11.5″L x 9.5″H x 5.5″W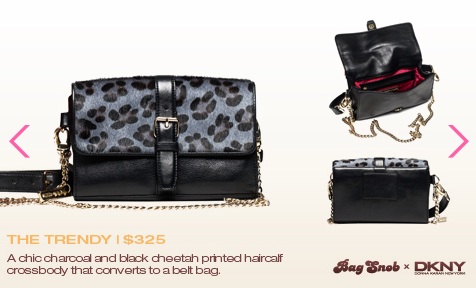 The Trendy: We designed this with our young friend, Jane Aldridge of the popular Sea of Shoes blog, in mind. She told me once she can not be slowed down by carrying a "handbag". This is a belt bag that converts to crossbody in graphite leather and leopard print pony hair. Dimensions: 9″L x 6.5″H x 2.5″W
The Clutch: We fell in love with this reversible sequin material! Goes from dark blue to silver sequins on graphite calfskin. We included a wristlet so you can be hands free at cocktail parties or in the ladies' room. Dimensions: 12″L x 7″H x 1.5″W
Still pinching myself that this landed on the front page of WWD today….
ARTICLE from WWD by Roxanne Robinson-Escriout
Twitter has a funny way of making friends out of total strangers, but it nearly had the opposite effect for DKNY PR Girl, the firm's Twitter personality, and Bag Snob, the popular blog that reviews high-end handbags, created by Tina Craig and Kelly Cook.
In May 2009, Craig tweeted that Donna Karan's Eldridge bag, for sale on Saks.com, "looked like a sea creature." DKNY PR Girl defended the brand by posting: "Haven't you ever taken a bad picture?"
From there, a conversation developed, and Karan's team sent Bag Snob the Eldridge to review, along with a few other Donna Karan bags. "When I saw the bag in person, it was completely different," recalls Craig. A few months later, she and Cook met Donna Karan herself at a Neiman Marcus trunk show in Dallas, where the bloggers began dreaming up a collaboration. Soon thereafter, the duo approached DKNY and — just like that — Bag Snob's first handbag collection was born. Named Bag Snob X DKNY, the five-piece lineup hits stores in October; Facebook fans of DKNY can pre-reserve the bags now through June.
Based on Bag Snobs' "5 Essentials" category, in which the bloggers call on various industry types to name their five must-have bags, the new collection includes the Tote (retail: $495), a rectangular shape with side pockets; the Travel ($565), a horseshoe shape with zip-down side compartments with mirror slots; the Trendy ($325), a small leopard print bag that can be worn three ways; the Clutch ($265), a sequined flap wristlet, and the Treasure ($365), a style done in a leather color block pattern with an embossed croc flap.
"This was a dream come true," Cook says, noting that the experience also humbled them as bags critics. "Before, we didn't realize all the construction and production that goes into a bag."
As far as the design process goes, the pair presented their inspiration boards to Jane Chung, executive vice president of DKNY design, who offered some color and fabric direction, and the firm's production team assisted with the practical aspects, "Like, you can't put light bulbs and diamonds inside your bags — too heavy," says Craig with a laugh. But other than that, the Bag Snob women had complete design freedom.
According to Patti Cohen, executive vice president of global marketing and communications for Donna Karan International, "Over the past two years our relationship [with Bag Snob] has grown, resulting in a collaboration that allows us to combine their sensibility with DKNY's style and accessibility. Our social media presence has allowed us to widen the scope from which we connect with people and draw inspiration."
Craig and Cook confirmed that DKNY paid them a design consultancy fee, which they are not at liberty to reveal. Which of course brings up the point of conflict of interest. How can they objectively review bags if they're receiving a cut?
"We will still give a bag we don't like a bad review," notes Craig. "All the brands will have a bag that's less than stellar…but it is still important for the blog's integrity to post what we think." Cook, for instance, recently reviewed Diane von Furstenberg's Piper bag, saying it "looked like a stuffed chicken." Still, Bag Snob later hosted an event at von Furstenberg's Dallas store, where the designer donated a bag to the site's monthly giveaway.
Craig and Cook, who met while attending USC's business school, were obsessed with handbags long before they created their blog six years ago. "We used to tell our parents that we received a Prada bag from the other as a gift," mused Cook. "Following a Chinese custom to save face, your gift in return must be equally in line. They didn't realize we really just bought ourselves a bag!"
And, of course, now they're hooked, and hope Bag Snob X DKNY is just the first of many collaborations to come. "Our goal is to do a new one every year," says Craig. "I have a list started — we could do this for the next 30 years."