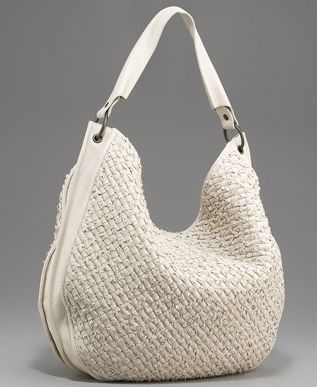 Who knew the hobo would be one of Bottega's most exciting styles to date? Not only is it inspiring a major shopping itch, I'd even go so far to say I'm in love. With ideal strap length and a dipped top, it's so much easier to get on the shoulder than the classic "Veneta." It won't slip yet it'll sling right over jackets, there's ample room below the underarms, and since it hangs lower, more of the bag is shown off.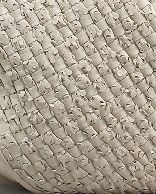 Not only can I carry it all day long – unbothered and comfortable – with all that transfixing texture, I desperately want to. I know big and white is a daunting mixture, but the abundance of weave and perforation will hide dirt better than you'd suspect. Actually, the price is far more daunting than the shade. And it's the reason I'm not carrying it right this minute!
I've already acquired a couple summer whites but nothing like this, so now I'm going to hate on the bags I do have. Oh, it's a never-ending battle. I guess the shopping must go on! At Neiman Marcus for $3,900.
Pair with: In a size so large I could use it to tote all my reject bags. But this would look really killer with verdant jeans by Current/Elliott – understated, colorful, and cool. Current/Elliott "The Ankle" Mid-Rise Skinny Jeans, $185.