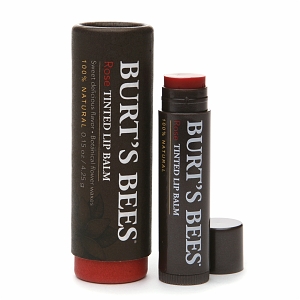 Summer lips need hydration! And with all the heat and humidity in the air, the last think I want is a thick, smacky lip gloss. I've been lightening up with Burt's Bees 100% natural tinted lip balm – it moisturizes your lips while giving them a sun-touched glow.
With coconut, olive fruit, and sunflower seed oils, along with jasmine flower wax and shea butter, this featherweight lip balm packs a wallop of nourishment. Conditions, reduces lip wrinkling, and looks naturally pretty to boot.
In six varying shades (Red Dahlia, Honeysuckle, Hibiscus, Tiger Lily, Pink Blossom, and Rose, I chose Rose) so subtle it looks like you were born with rosy lips, I even use the balm for nighttime when I wear heavier eye make-up and want to keep my lips nude (so much better than a fleshy nude that can look too pasty-pale for summer). I'm keeping this easy and super low-maintenance lip balm with me wherever I go. I have four lip glosses in my make-up bag right now, and I keep navigating to the least expensive in the bunch. Burt's Bees is my new favorite! At drugstore.com for $6.99.