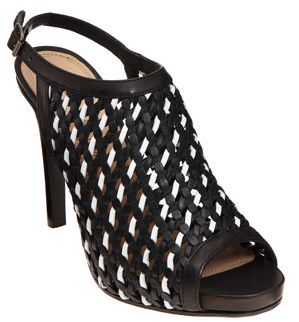 Realized it's already June and you have yet to score yourself a woven satchel? While I can't imagine making it through the season without a big, sand-to-land woven tote (Gucci and Bottega made my short list), why not take airy, intricate leather and move it down to your feet? Bag snobs, shoe snobs – we're one in the same!
Good timing: Derek Lam's "Natsumi" slingbacks just went on sale at Barneys. Soft leather – choose between monochrome nude and black with strips of white interlacing – encases your foot comfortably and shows peek-a-boo toes and heel, and hints at skin in between the weave. The lightness of a sandal without your typical strips of straps; the shape of a clog softened up for summer. At just over 4″, the heel is an easy incline, and woven leather screams daytime dressing. Think long garden brunches and poolside lunches with the girls. At Barneys New York for $469 (from $790).
Pair with: Isabel Marant's raspberry-colored "Garland" ruffled skirt is the feminine rush of color needed for a casual yet spirited afternoon affair. On Net-a-Porter
for $259 (from $370).