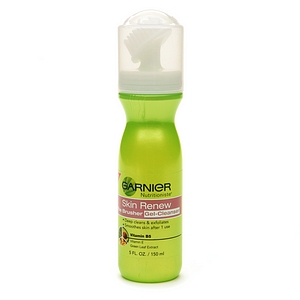 Garnier has done frugal snobs the big favor of creating a product that's in-line with the Clarisonic brush (Tina and I are major devotees) for a minute fraction of the price. Go manual with your brush! It's easy and you get similar effects. The built-in soft brush is great for busy girls (and boys). You squeeze the bottle and non-stripping gel cleanser, full of anti-oxidants, goes right in the brush. Use it in circular motions around the face, concentrating on the T-zone and other problem areas for refined pores. Just don't brush the delicate skin around the eyes – it's way to thin and sensitive for brushing.
Why use a brush, you ask? It's always better than regular cleansing because the bristles are more effective in removing grime. Dirt is actually getting removed, as opposed to possibly just rubbed around. You also get a gentle exfoliation for smooth skin (yes, gentle enough for daily use).
There's another version with rubber brushes for sensitive skin though I felt like that didn't do anything. But then again I love a good scrubbing! I also love Garnier's natural ingredients – and their awesome prices. On Drugstore.com for $7.99.