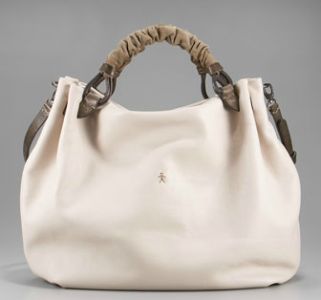 You can't resist loving a good hobo bag. They are the easiest of all bag styles to tote around. They sit cozily at your side – there's something comforting about the company, isn't there? And it's the ultimate in function. For all that easy function, the form can lean towards the repetitive side. How often do you find one that is totally unique and stands out?
Thank you, Henry Beguelin! You have presented us with a super-exciting hobo (almost an oxy moron). I can't even remember the last time I thought that about one. The ruched suede, contrasting handle doesn't just jazz it up, it's genius: in suede, it has traction to ensure it never slips off your shoulder. But the handle has a meager 3.5″ drop, which is disappointing to me because it doesn't fit under my arm. I'm willing to let it slide, since the bag is so cool. At least the slouch of the bag gives it extra room so it will work for most.
White's the way to go: set against the brown handle, it gives the bohemian tinge a shot of polish, just as Beguelin's bag will give your hobo options a shot of energy. At Neiman Marcus for $1,195.
Pair with: Casual olive twill pants get a sleek makeover with a cropped length and tight fit. Check out J. Brand's "Agnes" pants, and enjoy Net-a-Porter
's end-of-season sale!
On Net-a-Porter for $135 (from $225).