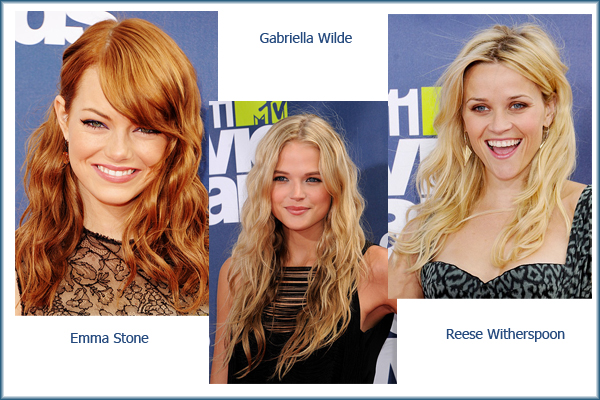 The real winners of the 2011 MTV Movie Awards? That would be the starlets who sported messy waves – the best look of the night, on and off the red carpet. Loose, uncoiled, rippling tendrils gave Reese Witherspoon, Emma Stone, and Gabriella Wilde all an easy, careless allure ideal for an event such as this. Long gone are the days of tight curling iron curls (I never liked that look! So junior prom!). The new waves are messy – great for the season of sand and surf casualness.
Reese's smile looks as natural as her windblown waves, a bonus of the messy look: blustery weather can't ruin it! Emma decided to bring some side-swept glamour to her tousled locks, for a look that's a little polished and very romantic. And fresh face Gabriella Wilde looked more California girl than native Brit. Her highlighted locks were given sea-sprayed appeal, via flowing, surfer-inspired waves.
How to achieve fetchingly undone hair without the help of a stylist? Use the Sultra curling rod for the perfect unperfect waves. Get your fingers in there and muss it up before you apply hairspray (if you must use it, choose a flexible hold that's brushable, like L'Oréal Elnett or Sebastian Shaper Zero Gravity). Be sure to leave the ends straight to avoid a curly-cue look – no more than an inch, depending on the length of your hair; about a half inch for shorter hair. And remember, in this case irregularity is key and flaws are beautiful!