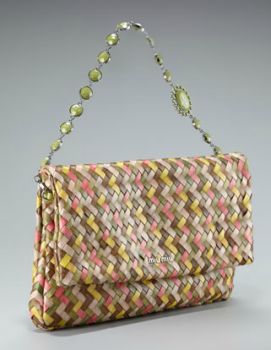 I totally dig this multi-colored treasure. The Miu Miu woven leather bag with a sweet jeweled strap is a sweet summer sack to throw over your shoulder for a night out or a day at your kid's friend's birthday party that you were suckered into helping out at last minute.
Bags like this are perfect for warm weather. They are bright, fresh and fun and compliment summer outfits like this sweet pink silk romper
paired with some metallic sandals
or some scalloped shorts
(love) a tank
and a blazer
for a more polished look that still looks seasonal.
With the woven colors, this bag will be easy to play up with many different looks, but be prepared to get a lot of wear out of it if you want to justify the price. It will set you back $1,495 at Bergdorf's. However, it is summer, throw caution to the wind and get your weave on girl.