Any woman with a savvy, modern sense of dressing would kill to have creative genius Cher Coulter style her. Cher's uniquely sensual yet effortless aesthetic has made her one of the top stylists in the game. The London native and co-founder of menswear line AKA now splits her time between NYC and LA, helping the likes of Kate Bosworth, Kirsten Dunst, Sienna Miller, Jude Law, and Orlando Bloom (to name just a few) look their best.
Her most recent feat is a jewelry collaboration with friend and client Kate Bosworth. The pair has created an ultra-affordable and highly stylish collection for Jewelmint – gorgeous, luxe-looking pieces for under $30?! Read on for her superbly curated, eclectic and unexpected five essentials: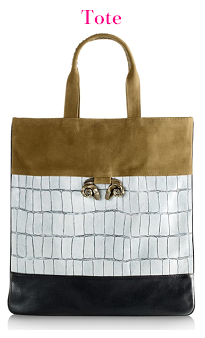 Suede and Leather Ram's Head Nami Tote: This tote is great; so simple, yet luxurious. I'm not a fan of classic "totes" but this slim design is perfect for tonal color blocks go with everything and it's simple to pile things in!
Etro Tribal Paisley S/S 2011: Perfect bag for perfect summer getaways and rustic retreats! Deceptively, this bag holds a ton and I love the hippy feel that will never go out of style!
Loewe Handabag "Flamenco": Loewe bags are superior in design, function, color and fabrication. They are such special bags. Each one is a work of art that'd I'd gladly display with any outfit. I love this one in Ostrich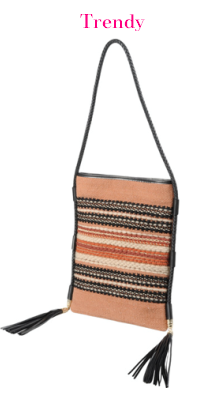 Emilio Pucci Shoulder Bag SS11: This represents a boho summer to me! It's the perfect bag to just throw across your body and walk out the door. It would also look great, embellished strings of charms, colorful threads and hippy pins! It feels well traveled, which I love.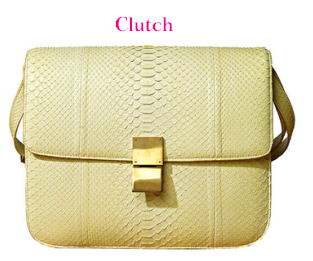 The Celine Retro Bag: I absolutely love this bag. Its small with a vintage feel, but still manages to look young and expensive. I'm so tired of the oversized clutch, and this one has a great mini feel and a long enough strap to throw over your shoulder when you just can't clutch anymore!