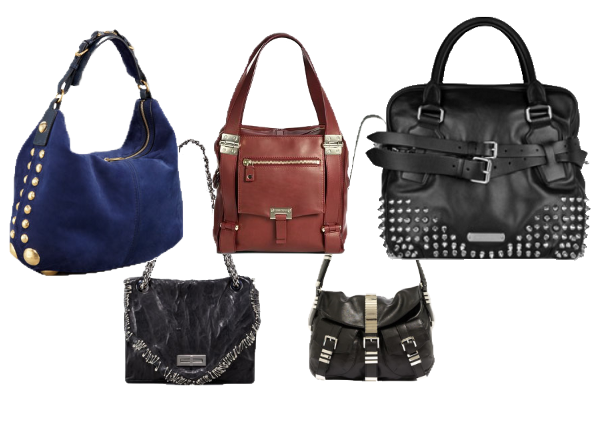 Hardware is making a serious comeback, though for some it never went away in the first place. Girls are growing bored of minimal bags with little to no hardware (but not me! Although I am now more receptive to appropriately hardwared bags).
That's not to say we're going back to the days of the preemptively heavy Chloé "Paddington," but you'll soon be seeing bags with significantly bigger functioning hardware. Meaning not just stud embellishments, so typical at this point you wouldn't even bat an eyelash, but headier bits. Like prominent rings, proud metal buckles, and larger closures than what we're used to. Designers are getting inventive with closure, which provides a point of interest. I love the idea of innovation in something we think we've got all figured out.
The first surge of toughened-up bags? Jimmy Choo has sturdy touches right out of the hardware store, and a rumply leather Balmain goes for Sex Pistols style with safety pin trim. A slouchy Michael Kors hobo is barely recognizable under all those bits of metal, while Burberry gives its bowling bag the punk makeover of a lifetime. Alexander McQueen's ridged golden buttons are almost dainty in comparison.
Jimmy Choo "Parker Cashmere" Medium Leather Shoulder Bag at Saks Fifth Avenue for $1,995.
Michael Kors "Darrington" Leather Flap Hobo at Nordstrom for $534 (from $895).
Burberry Studded Leather Bowling Bag on Net-a-Porter
for $1,397.50 (from $2,795).
Balmain Safety Pin Chain-Strap Bag at Neiman Marcus for $2,420.
Alexander McQueen "Chanter" Studded Hobo at Neiman Marcus for $3,150.