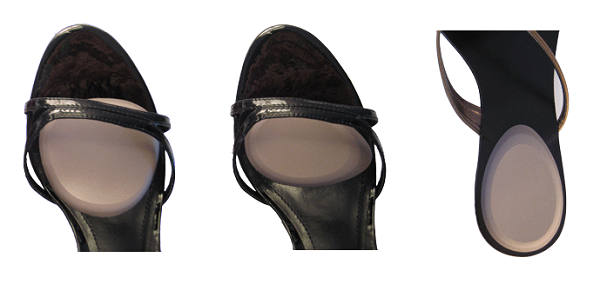 There are countless shoe inserts for various needs out there – comfort, of course; shoes that are a half size too big; arch support, and so on – but Stiletto Hardware's are made with memory foam! Basically the Tempur-Pedic Cloud of inserts, these put Dr. Scholl's gel insoles to shame.
I put the Ball-of-Foot Cushions ($7.95) in my Proenza Schouler lizard pumps because, let's be honest, pumps aren't the most comfortable things to wear (I hate to admit it as much as you do). The inserts in this shoe, with all the skin-revealing perforation, presented problems – they pushed my toes into the cutouts, causing extreme pain. Keep in mind that any pump will need extra room for these quarter-inch-thick cushions.
It's the egg-shaped Heel Cushions ($7.95), designed for flats, which I'm obsessed with. Let me tell you, these are heavenly for your whole body, especially when you're wearing those brutal leather flats that feel more like concrete than soles. They absorb shock from each pavement-pounding step you take – and we have to remember that a day on severe flats will cause back pain, which leads to shoulder pain. There's even an adhesive on the bottom so you can put them on your flip-flops. Just don't flip or flop too hard – you'll be able to see the pads when you lift your feet.
Absolutely essential (and totally hidden in ballets and sandals), I'm buying their cushions for every pair of flats I own. Add the Ball-of-Foot cushions, and you're flats are transformed to little cloud puffs beneath your feet!