Not only is my friend Michael Carl absurdly witty and supremely stylish, he is also the ultimate Man Snob (it's a good day when he approves your shoes!)– and will be offering fashion advice to our snob readers (send him your questions in comments, this is a once in a lifetime opportunity to get style tips from a man who really knows fashion!).
Long time veteran of the fashion industry, the Fashion Market Director of Vanity Fair, Reality star (he was on Shear Genius!) and former Fashion Director of Allure (he made the switch this past winter) is as wildly energetic as he is clever. In between attending fashion shows, visiting showrooms, putting time in at the gym or watching one of his favorite sports teams in action- the practical joke-loving Michael is tirelessly tweeting. His cheeky insights and hilarious observations make him a must follow–> http://twitter.com/#!/carlscrush, trust me, you will not be disappointed! Read on for this fashion expert's sleek and colorful Five Essentials:
Fashion's new minimalism continues with this handy carry-all. The color blocked totes from Phoebe Philo's Celine Fall 2011 are so smart. She gives good Roy G. Biv (blush, traffic cone orange, or dove grey) so we're not too clinical/grocery sack and all in the plushest leather. It's tabula rasa toting for any climate and carrier who dig exuberant restraint.
Celine Orange and Blue Bi Color Cabas, $990. Available at Celine Bal Harbour, 305-866-1888.
No one beats the Italians with color. Tod's divinely basic rolling suitcase (we prefer red) is modest enough to avoid garish looks in the terminal but bold enough to be noticed at a range on a baggage carousel (lets not be that elbowing traveler staking claim at the front front of the luggage portal this summer). The leather is simply the best and we say go beautiful basic or go home.
Tod's Red Trolley, $3,325. Available at Tod's.com.
Fendi always just nails it with an it bag. This calf hair & leather shopping tote is classic and perfectly elegant for fall. The contrasting materials make it just interesting enough. It's cozy & rich and makes me so excited for the season.
Fendi brown grain rice and calf hair Anna Handbag, $2,390. Available at Fendi Stores, 1-800-366-3469.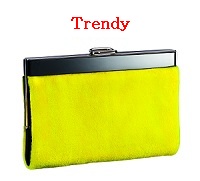 Roger Vivier's clutch in tweety bird yellow is actually fur not fowl (it's mink). The house does shocking mod so well and this look is happening everywhere for fall; pop color is the new black. The splash is eye-catching enough for evening and totally tweet-worthy…or whatever they call it.
Roger Vivier yellow mink and black patent leather clutch with gold buckle closure, $3,325. Available at ROGER VIVIER, NEW YORK, 212-861-5371.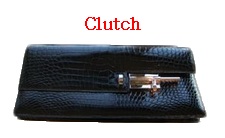 I'm scared of alligators but not alligator bags. This Hermes clutch is vertiginously major. The black exotic and metal hardware add a toughness from the house so consistently classic and stayed, it's the best of both worlds. Fierce utility nonpareil. Bad ass boardroom. I could alliterate until my head spins but you get the idea.
Hermes Verrou Elan Clutch, Crocodile Niloticus with silver-plated hardware. Available by special order, 1-800-441-4488.