Funny, witty, and with a sharp eye for style, Kyle Anderson is every girl's dream BFF. Did I mention he is also the Senior Accessories Editor of Elle magazine? Enough said. Kyle tells me he looks at about a gazillion bags a week (oh, so envious!), so to say he knows a thing or two about the subject would be an epic understatement.
Swedish-born and Chicago-raised, Kyle started out as an intern at Elle and has been selecting amazing accessories for the magazine for six years now (you do the math on how many bags he's encountered!). With a fresh, edgy sensibility, Kyle is not only the go-to guy for new trends and designers, he also understands the importance of the investment classic. Read on for the accessory expert's five essentials: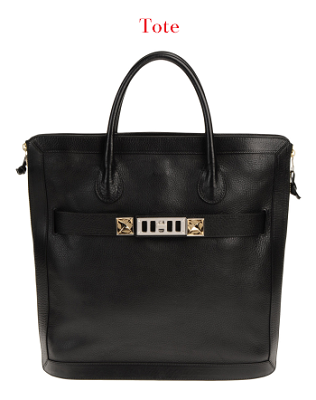 Proenza Schouler: Whenever I think of totes I think of sunny summer days and preppy canvas totes. Which I absolutely hate. I love this tough urban cool black leather option from Proenza Schouler. The metal hardware detail gives it the perfect amount of a tough edge to have a rock 'n roll vibe but at the same time its simple and chic and would go with anything. Great for girls or gays for work or play.
Givenchy: Traveling and being surrounded by a bunch of freaks in the airport is bad enough, flight delays, babies screaming, sick people…I can guarantee that wheeling this patent Givenchy sleek roller suit case would put a smile on your face even in the worst scenarios. I love the tough wolf faces that cover the surface that also appeared on their FW runway on the RTW and other accessories. By far the coolest wheeler suitcase around.
Louis Vuitton: This shiny black croc bag from Louis Vuittion is such a luxe and sexy version of this seasons big "fetish" trend straight from the LV runway from a show that had a theme based on the film The Night Porter. I think its funny the mix of luxury and sexuality with the exotic precious skin and the attached chain and handcuff. Its edgy but its still simple and sleek. Its big enough to actually carry your stuff and I think pretty versatile for any sort of occasion. Id be proud to carry this bad boy anywhere and everywhere.
Balmain: I guess if anyone saw a safety pin clutch they would think its super trendy but actually we at Elle have been shooting safety pins for a few seasons now. We keep seeing them season after season in some incarnation from tons of major designer. I think this Safety pin trim black leather clutch from Balmain would be great for anyone wanting to make their little black dress look a lot edgier and also its not so precious like a box clutch. U can actaully take this one out with you and your gfs at night to dinners, bars, clubs, etc and not have to worry about looking overdressed or feeling uncomfortable with a too-precious looking sparkly option.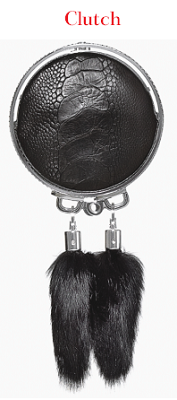 Alexander Wang: I fell in love with this little round ostrich clutch the minute I saw it walk down the Alexander Wang FW runway. It has two cute mini fox tails and a faux zipper detail around the edges that give it, up close a really tough look.
It was one of the first things I shot for ELLE after the FW collections. Definitely a cool new shape.