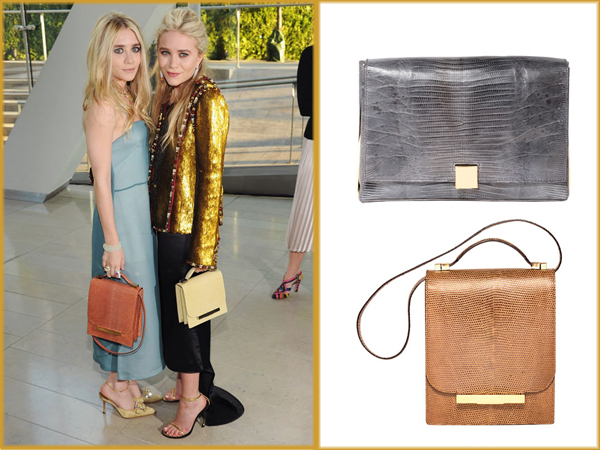 It is no surprise the bags from The Row (named after Savile Row, a.k.a. "The Golden Mile") are as meticulously crafted and streamlined as the ready-to-wear line. If the clothes are any indication, the Olsens are dedicated to high quality and clean lines. But I am pleasantly surprised at how well the girls are able to translate their very unique personal style to bags that work for everyone.
Ashley and Mary-Kate each brought one out for a run at the CFDA – and I went from impressed to obsessed! The proportions of these bags are amazing on petite girls, like themselves, but the shapes will work on taller snobs, too. Especially Ashley's elongated classic lizard shoulder bag. The twins also exhibited how well these grown-up bags, designed with the eyes of wise fashion souls beyond their 24 years, can be appropriated to both sleek (as seen on Ashley in a blue dress by The Row) and opulent (Mary-Kate, wearing Chanel Pre-Fall) looks.
They have succeeded in offering us styles to fill a void in your bag wardrobe for a lifetime. I'm experiencing a mania of epic proportions over these bags! Except I'm not so crazy about the prices. Though, like The Row Ready-to-Wear, I am certain fat price tags won't stop this bag line from flying off the shelves. Classic Shoulder Bag in Lizard, $5,450. Metal Frame Lizard Bag, $5,800.
Images via Harper's Bazaar and Wire Image