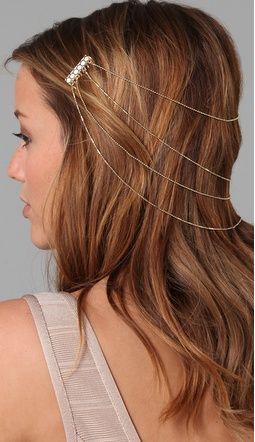 This Beauty Snob hair adornment is a little medieval princess (I could see this on Princess Buttercup in "The Princess Bride"), and a lot modern beach goddess!
KRISTOPHER DUKES is wanting Matt Doody, Dublin designer .
StyleHive brings back the StyleHive newsletter! Get your daily dose of style now!
Tot Snob is all about the graphic tees from Crewcuts for a Cause. What's not to love and the proceeds go to the Leukemia and Lymphoma Society!
Shopping and Info designers like Calvin Klein and Alice + Olivia are using Alpaca in their collections for sweaters and skirts as a Fall Trend for 2011.
Jewel Snob loves wooden accessories: the anti-bling of jewels with an organic feel to soften any look, like these bangles!
Second City Style recently hit the streets of London searching for trends you can rock this side of the pond.
Allow me to introduce Couture Snob's new favorite summer dress! Whit's "Margaux" is the peasant-inspired maxi done to perfection!
The Shoe Goddess gets a sneak peek at Balenciaga's Fall 2011 shoe collection!
There are countless shoe inserts for various needs out there – comfort, of course; and these Stiletto Hardware's at Shoe Snob (made with memory foam!) put Dr. Scholl's gel insoles to shame.
FabSugar has Niki Taylor on Personal Style, Modeling, and the Most Important Thing You Can Do.