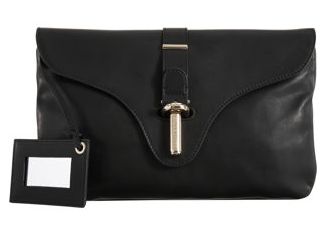 With a clean gold-tone cylinder lock serving as the only detail and singular focal point on this discreet foldover clutch, Balenciaga is showing off a minimal new turn – and they have my blessing!
The flap shape, which tapers into a soft V, enhances the lock hardware, letting you know it's designed to be the shiny centerpiece. So simple and elegant, it makes the motorcycle bags of seasons past look cluttered, almost disheveled. But the brand hasn't strayed completely from their roots. As with all Balenciagas, this tube comes with a mirror – extra-handy for a clutch, when you're not carrying your entire cosmetic kit, so you can inconspicuously check your face on the fly. While it's fun to have a Crayola-wide array of clutches to pick from, if you can only get one, this is the model: neutral black with a shining focus, as versatile as can be. At Barneys New York for $865.
Pair with: The beauty of the plain black clutch is that you can go crazy with other accessories. Wear something along the lines of, say Tom Binns' "Slap Dash" necklace, a jam-packed bib of Swarovski crystals, some clear and some hand-painted neon yellow. On Net-a-Porter
for $1,900.