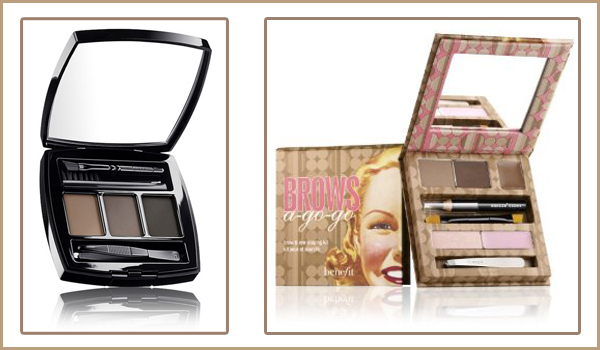 Most makeup artists insist brows are the most important element of the face – they can compliment (or detract from) your other features and your overall bone structure more so than anything else. True, they frame your face, so maybe we should pay them some well-deserved attention. While many of us can get by with a simple brow pencil for filling in and defining, every snob should have a complete brow kit in her beauty arsenal. Time to compare two of the most respected palettes in the game: Chanel and Benefit. Well, we can guess which one is more expensive, but which eyebrow kit is worth your while?
Benefit's Brows A-Go-Go ($38) is a double whammy. Not only does it offer complete brow shaping, you also get the goods to do up your eyes: a mini black eyeliner pencil, brightening eye shadow, and a highlighter for your brow bone. There are two brow powders, one light and one dark, and one waxing powder, to set your shape. It works well, but the brush (which is shaped more like a typical eye shadow brush) means you have to know what you're doing, or else you'll end up excess powder and a possible uni-brow effect! Thankfully, Benefit provides a set of instructions for the faint of heart and heavy of hand.
While the tweezers in Benefit's kit are more effective, nothing beats the formula of Chanel's brow powder. No, it doesn't come with all of Benefit's fixings, but this is a case in which less is more. The selection of three shades, from blonde to almost-black, are so blendable there are no brows on the planet Chanel's powder won't look natural on. Use the brush first to comb, for even application. Plus, the Chanel compact
($65) is easily portable (with a magnifying mirror), unlike Benefit's, which is made of paper and doesn't snap shut.
While I'd recommend Benefit's kit for the shaping expert with darker coloring – and it's an awesome deal for the price, Chanel's palette is for snobs of all shapes and shades.