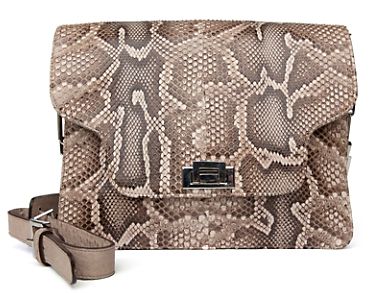 New bag designer Emmaline Ranzman (her Emm Kuo line was launched just a year ago) is a mix master. Taipei-born and raised between New York and Hawaii, her bags are as eclectic as her multi-faceted upbringing, making her a fresh face on the circuit that stands out among the pack.
Bag in point, this structured python messenger. The strong, tapered flap makes it far more feminine than a boxy messenger – it almost looks more like a formal handbag. The same goes for the adjustable python-and-chain link blend strap; the snakeskin shoulder patch keeps you comfortable and fabulous. Skin with a slightly pinkish tint adds a touch of girliness, but it's still totally neutral.
Ranzman's designs are all about "depth and layers," and it shows in the contrast side paneling. I especially love how the shape of the messenger follows the python's scale patterns. And the squared-off metal closure? An Emm Kuo signature. Something tells me we'll be seeing more of these little buckles hanging from the bodices of snobs from the West Coast to East Coast and over in the Pacific Rim. At Intermix for $1,398.
Pair with: Dash around town with your Emm Kuo messenger and a very-now Eugenia Kim rabbit-felt hat. It's a toss up between which is more stylish: the wide-brimmed "Carly" or the "Kurt" fedora. Eugenia Kim Hats, $310-$330.