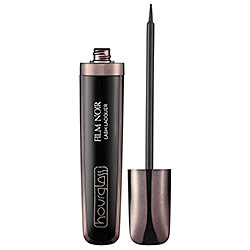 Anyone I know who has tried Hourglass, loves Hourglass. Their brushes? I'm obsessed. Not only are they the perfect density (I use the $42 Retractable Foundation Brush
to apply everything from powder foundation, to blush, to highlighting powder), but you don't need to clean them that often because they're made with PETA-friendly takelon bristles, which hold a lot less bacteria than real hair. You can also use them for liquid foundation.
Their Veil Mineral Primer SPF 15 ($17/$52)? to die. Your makeup will go on smoother than you ever thought possible. In fact the primer is so effective that the brand's artistic director, Gina Brooke, requested to work with Hourglass after discovering it when looking for a primer for Madonna that would hold up to the harsh lights and sweating she's faced with when performing. Veil Mineral was the only thing that worked for Madonna and Brooke has used it on a slew of celebrities — including David Beckham from-head-to-toe when he needed to be bronzed for a shoot — since. The latest product from Hourglass just launched a few days ago and it's called Film Noir Lash Lacquer ($28).
The Sephora exclusive comes in a mascara-like tube with a small liquid liner-like brush and is meant to be applied post Film Noir Full Spectrum Mascara Onyx
for intense blacker-than-black lashes. For those that don't plan on using Hourglass' mascara Brooke suggests using a lengthening as opposed to a heavy, thickening mascara for optimal results. If you're looking for a high impact look, I'd highly recommend it. It dries quickly and once it's on, it literally does not move so be prepared to use a lot of makeup remover (I need two wipes and liquid eye remover!).