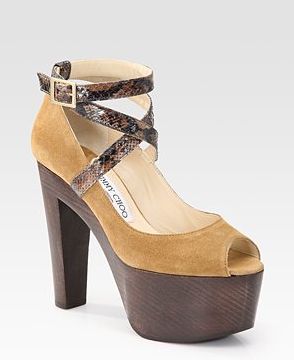 It's the battle of the Choos! Dangerous and sexy, Jimmy Choo has presented us with yet another hot shoe, but tread lightly: at over five inches, this heavy wooden heel is reserved for the spry and nimble. Yet it's the crisscrossing straps that take center stage. While they are set so high they probably won't do much in the way of actual stability, the ankle straps keep it all together and confident snakeskin adds heat to an otherwise unremarkable nude suede base.
The one easy element – and saving grace – is the pitch. With such a giant platform, the reality of this heel is a slight, manageable three inches. All in all, if you aren't planning on breaking into a run, this chunky shoe is comfy. Foot molding suede, a padded insole, and an easy pitch will keep blisters at bay. Major sex appeal that doesn't require suffering? Now that's my kind of shoe!
So which mega-Choo do you prefer? Strapped and dangerous or heavy on the wood and easy on the eyes? On Saks Fifth Avenue for $725.
Pair with: Lighten things up with Diego Dolcini's suede shoulder bag in luscious pale turquoise, a classic style in a refreshingly new color that equals a wise investment. Diego Dolcini Suede and Silk Shoulder Bag, $1,120.