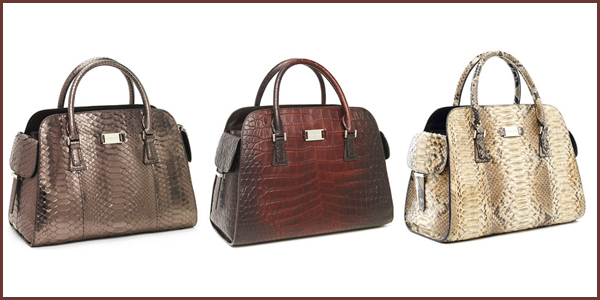 It looks like the "Project Runway" co-hosts share a taste for sleek style, on and off the show. Heidi Klum carried Michael Kors' "Gia" bag, a black python version from Pre-Fall 2011, in New York two days in a row last week (you know a celeb really loves a bag when it gets multiple outings!). It just reinforced the fact that his clean and structured tote is all the rage.
This is the day bag you carry if you want to look instantly sharp and polished – it dresses up both Heidi's flowing maxi and cotton sheath without looking out of place or overdone. Python (or crocodile-embossed leather, which is also available for more pleasant price) is timeless and so is the shape – hard but not stiff and ready to hold all your gear for a day's worth of errands. It is also the ultimate bag for the modern lady: all-American and all-fabulous.
Anthracite Python. At Neiman Marcus for $2,195.
Crocodile-Embossed Plum. At Neiman Marcus for $895.
Python-Embossed Desert. At Michael Kors
for $2,195.