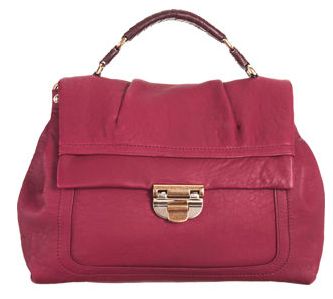 What did I say about Nina Ricci? Their bags are so good now! It's not easy to be both adorable and elegant (story of my life!), but the "Liane" bag is as cute as it is sophisticated. A chubby, round shape is one you want to reach out and give a soft squeeze; a top-handle satchel with such fine details shows its maturity. It's all about shapes: the curved body has a strikingly blunt, straightedge flap, which is a stroke of genius so subtle you don't even notice it at first. A mix of opposing shapes like that gives the bag a fresh look while remaining totally familiar.
It is always the hardware that can make or break a bag. Nina Ricci's lock is one of the best out there. A two-tone clasp that is delicate and substantial at the same time; the hard-edged, straight top with a rounded bottom mimics the shape of the bag. None of these elements would have the great effect they do if the color wasn't so delightful. "Liane" also comes in natural ecru but this gorgeous pink is my only choice. At Barneys New York for $1,490.
Pair with: Play up the bag's old-world glamour and mix it up with a cozy fur jacket. The cropped sleeves and oversized collar of Vince's coyote coat make it a fur that's not to be taken too seriously. Just keep the rest of your outfit super-slim and streamlined to avoid volume overkill. On ShopBop
for $1,875.