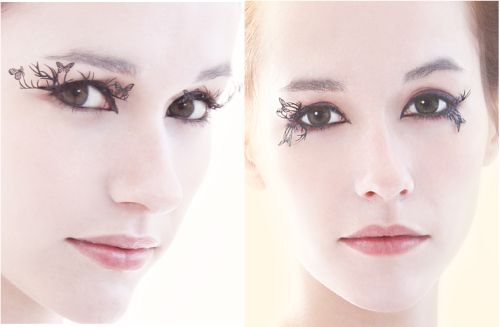 A beauty development so whimsical it's only logical. After we've seen what we thought was every incarnation of false lashes (fox fur, rhinestones, leather, and what not), enter paper eyelashes! Amazing beyond words, in breathtakingly delicate patterns with motifs like "Deer and Butterfly," "Peacock," and "Under the Sea," they put Shu Uemura to shame. They are inspired by Chinese paper-cutting and evoke totally demure drama – sure to bring out the nymph in you. And they can be used again and again.
Real lashes? So over them! These lashes are so exquisite, I no longer feel the need to go natural. And if these somehow don't impress my friends, I'm dumping them (JK!).
You must buy them through the UK site Nonesuch Things – I don't even care how much shipping costs. I must have them all. Actually, I almost didn't want to share because I want to be first to show up with them! But I am generous. =) On Nonesuch Things for about $20.
Via Boing Boing