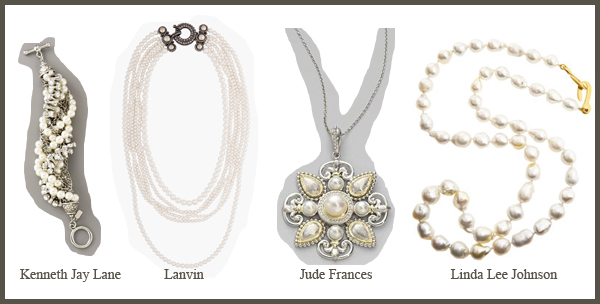 Pearls are back in a big way! Not that they ever went away, if we're talking about that certain Barbara Bush crowd, but now they are genuinely hip.
Lucky for me, I just scored a strand of South Sea pearls on my trip to the Philippines. A choker length of 10mm rounds with slightly irregularly shape for $160. And they are really beautiful. They cheat by using a larger "irritant," so the depth of color is not the same, but who is looking at me with a microscope?
This time around, you should be on the lookout for pearls with a twist. In the spirit of Kenneth Jay Lane's crystal and faux pearl bracelet, I distort my pearl choker with chains for an edgier look. With the appearance of plundered treasure, Kenneth Jay Lane knows that costume jewelry should be lacking in sobriety. Strands of chains and clumps of Swarovski crystals make simulated pearls as interesting as the real thing. Lanvin multiple strands are the right look, but the wrong price for disingenuous pearls. With crystal-embellished beads on an antique silver tone clasp and mixed up sizes and lengths, their necklace symbolizes the new statement pearl necklace. Keep in mind you can find the same look for a fraction of the price, though (they're not real so why spend $1,700 when you can spend $17?).
Or make a different sort of statement with an ornate design. Jude Frances' pearl, diamond, 18-karat gold, and sterling silver pendant is totally medieval chic, and since I'm obsessed with Games of Thrones, this is a look I am after. Not to gloat, but Linda Lee Johnson's South Sea baroque pearl necklace (for $44,950!) makes me feel extra-good about my purchase. Her textural, mysteriously shaped strand looks just like mine, though my pearls are rounder. And did I mention I got mine for $160?! Mwahhaahhaa!! Use my steal as an example and take your time when buying your new pearls – and look out for that special necklace on your next vacation. You never know where you'll find a real treasure. Kenneth Jay Lane Crystal and Simulated Pearl Bracelet at Bergdorf Goodman for $175. Lanvin Multi-Strand Pearl Necklace on Ssense
for $1,700. Jude Frances Diamond, Pearl, 18-Karat Gold, and Sterling Silver Large Scroll Pendant Necklace at Saks Fifth Avenue for $1,485. Linda Lee Johnson Baroque Pearl Necklace at Barneys New York
for $44,950. Check out my South Sea pearls below!