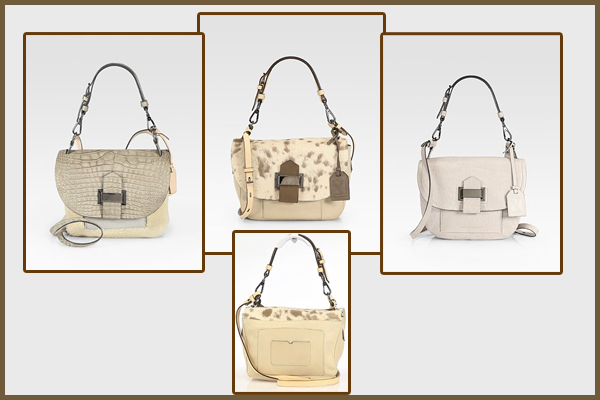 Reed Krakoff's bags have become unmistakable. With a decidedly clean palette and a love of a sophisticated buckles (and even though he's low on the logos – no complaints here!), there's never a question of whether it's Krakoff or not. The new kit bags cement his high standing in the snob-approved arena. They also show off what has become his signature: closures that look complicated but are in fact, literally a snap to open and close. The leather tab and hardware are just for looks; here we have a simple flap with magnetic closure.
In alligator and shearling (offbeat luxury), Appaloosa printed haircalf and cream leather (my pick of the bunch), and tumbled leather (subtle texture), the kit bags are as unique as their respective prices. But they do all have what's now my favorite feature: a pocket under the flap. The backs also have a pair of double-open pockets; the small cardholder sits atop the larger for a nice detail, instead of a plain backside – I can't get enough of these great, functional details.
I'll admit there is a lot going on with the straps, but this kind of clutter is complex, not complicated. It gives the bags heft and personality. Besides, unlike most double-handled bags, both the shoulder strap and the top handle are removable. You get the option to choose one or the other. Um, why don't all bags come with a detachable top handle when using the shoulder strap option? That seals the deal – Krakoff's kit is a super-easy bag that is versatile and über-chic.
Alligator-Skin and Shearling Kit Bag at Saks Fifth Avenue for $4,490.
Haircalf and Leather Kit Bag at Saks Fifth Avenue for $1,390.
Tumbled Leather Kit Bag at Saks Fifth Avenue for $990.