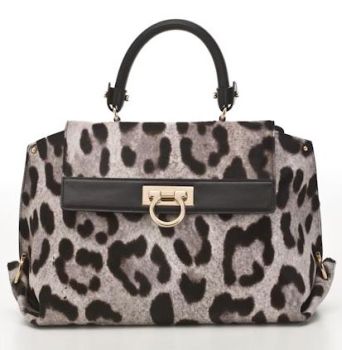 Sometimes the all the elements – color, print, material, hardware, shape, and size – converge in such a way you get a balance that's sheer perfection. By now you well know I'm a sucker for spots, but lately I've moved onto to an even more neutral variation. Gray leopard is officially my new favorite animal print. It's more subtle and less Vegas, more refined and less kitsch.
Salvatore Ferragamo's take on colorless leopard is one of the best I've seen by far. It's highbrow without being uptight. By putting the spots under a magnifying glass, the effect is graphic and striking. On deeply touchable pony hair, it's divine. As a top handle tote with a scaled-down flap, crimped edges, and measured dashes of black leather and gold hardware, I'm finding this bag impossible to resist. And why should I even try? This is the sort of logical investment piece you will never regret, especially when you're still carrying it years later – because ladylike-cool never goes out of style. At Salvatore Ferragamo for $2,590. Call 1-800-628-8916 for inquiries.
Pair with: I'm seeing gray days ahead. And I couldn't be happier. I plan on indulging my tote's muted spots with Giuseppe Zanotti's razor-sharp gray stiletto booties, with two degrees of platform to keep you grounded. Giuseppe Zanotti Double Platform Bootie, $795.