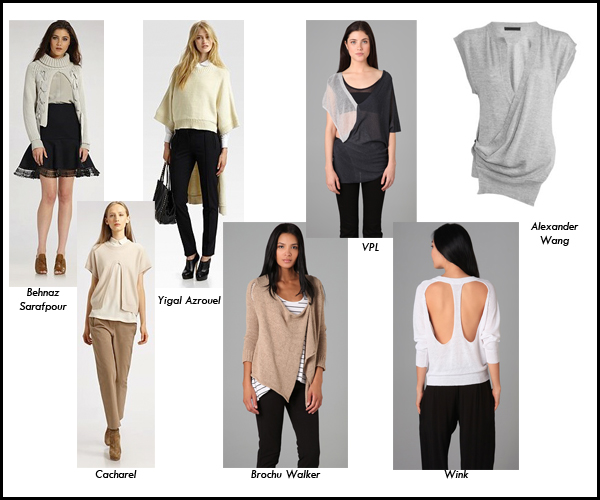 Think blistering cold and see drab, dowdy layers? Nothing is more of a bummer than wearing the same schlubby sweaters day after day through the chilly season, but there's no need! Keeping warm doesn't mean you have to let your imagination go by the wayside. Just don't let yourself get caught in the repetitive crewneck cycle. Like Weezer, designers are undoing traditional silhouettes, unraveling old sweaters, and knitting madcap creations with way interesting cuts. Front-slashes, tails, twists, panels, and cutouts: you name it, they've got it.
Layering has gone to a new level – now it really does matter what you wear underneath that sweater. To even out Behnaz Sarafpour's chunky turtleneck, she has cut away the entire front for a big reveal. The same goes for Cacharel's more demure slit. Who knew knits could take on a billowy effect? Especially when they have flared sleeves and a dramatic tail a la Yigal Azrouel.
Rolled edges set off the sharp corners and effortless draping of Brochu Walker's single-button cotton cardigan. If that's not suggestive enough for you, the "Overlap" sweater by VPL has torso-baring cutouts at the side and back. Or go quirky – and probably naked underneath – with Wink's "Damien" sweater, for an almost skeletal effect. No trend would be official without Alex Wang on the bandwagon; his merino wool wrap sweater is a unique take on a preppy staple.
Even as I swelter in tropical heat, I'm looking forward to all the fresh cuts to try. Who knew covering up could be so much fun?
Behnaz Sarafpour Open-Front Pullover at Saks Fifth Avenue for $850.
Cacharel Slit Front Wool Sweater at Saks Fifth Avenue for $325.
Yigal Azrouel Cropped Tail Sweater at Saks Fifth Avenue for $555.
Brochu Walker "Yummy" Draped Cardigan Sweater on ShopBop
for $255.50 (from $365).
VPL "Overlap" Sweater on ShopBop
for $132.50 (from $265).
Wink "Damien" Sweater on ShopBop
for $105 (from $150).
Alexander Wang Draped Wrap Sweater at Barneys New York for $395.